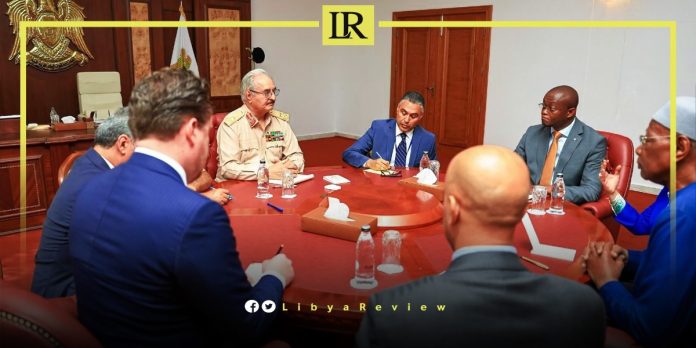 On Saturday, the Commander-in-Chief of the Libyan National Army (LNA), Field Marshal Khalifa Haftar met with the newly appointed UN Envoy and the Head of the UN Mission in Libya (UNSMIL), Abdoulaye Bathily.
During the meeting which was held in Benghazi, Bathily affirmed his "determination to listen to all Libyan parties," and reiterated the United Nations' "support for a sustainable Libyan-owned solution to restore peace and stability to the country."
He also stressed the importance of "preserving the ceasefire agreement, and unifying the security and military institutions in Libya."
In a thread on its Twitter account, UNSMIL said that Bathily "met with a group of women in Benghazi, including academics, lawyers and activists. As part of his ongoing efforts to collect ideas from a variety of Libyan stakeholders about the best path to peace and stability. "
"I want to hear the roadmap you have, not only on women's issues, but on every aspect of the crisis. I want to help Libyans design their own solution to put an end to this," he added.
Spokesman for the UN Secretary-General, Stéphane Dujarric confirmed that Bathily's "highest priority is to support defining a consensual path towards fair and comprehensive elections, as soon as possible."
In Press Briefing, Dujarric said: "On Libya, which we haven't talked about in a while, I want to tell you that our Special Representative for Libya, Abdoulaye Bathily, arrived at the end of last week in Tripoli."
"Following his arrival, he met with the Presidential Council leadership, Prime Minister of the Government of National Unity (GNU), Abdel-Hamid Dbaiba, and Speaker of the Libyan Parliament Ageela Saleh. Previously, Foreign Minister, Najla Mangoush welcomed him to the country via a telephone call, as she was away from the country," he added.
Dujarric pointed out that the different Libyan stakeholders welcomed Bathily, and expressed their readiness to work with him to find a political solution to the conflict.
He explained that Bathily relayed to his Libyan interlocutors that the UN mission's top priority remains supporting elections, and to "ensure a Libyan-owned and Libyan-led solution to the crisis."
"Over the next few weeks, Mr. Bathily plans to consult with a wide range of stakeholders, including civil society, women, and youth groups from across Libya."