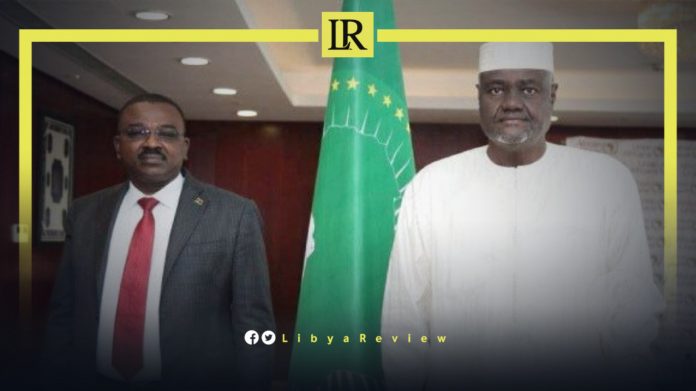 Adim Mohamed Lino delivered his credentials to the Head of the African Union (AU) Commission, Moussa Faki Mahamat, as the Permanent Representative of Libya to the AU.
In a tweet, the Head of the AU said, "I received the credentials of Ambassador Adim Mohamed Lino, the newly appointed Permanent Representative of the State of Libya to the AU."
The Chairman of the AU Commission said last month, that terrorism had increased across the continent with the start of the Libyan crisis in 2011.
In a final statement, the AU Chairman said that the situation in Libya allowed foreign mercenaries to arrive in the Sahel region. In addition to the influx of terrorist groups that had been defeated in the Middle East.
"Since then, terrorism has hit other parts of Africa; from Libya to Mozambique, Mali, Guinea, Somalia, and Sahel region. As well as Chad and the Democratic Republic of Congo," the AU official said.
In February, the Chairman of the High-level Committee of the AU on Libya, and President of the Congo, Denis Sassou Nguesso, announced that the AU mission will soon return to its official headquarters in Tripoli.
Nguesso confirmed the AU's support for the electoral process under appropriate conditions, "in response to the aspirations of 2.5 million voters, to choose their representatives and president without exclusion."