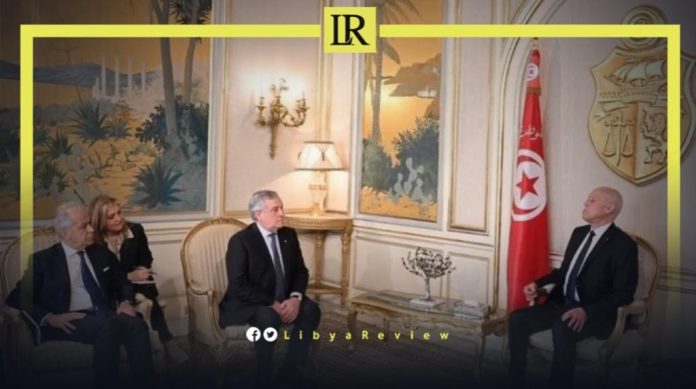 On Wednesday, the Italian Deputy Prime Minister, and Minister of Foreign Affairs, Antonio Tajani stated that he spoke about the Libyan crisis during his visit to Tunisia.

During his meeting with Tunisian President, Kais Saied, Tajani said, "We discussed the stability of Libya. For us, this is very important, and we will always work together for border security."

He also reiterated his willingness to work with Tunisia " to solve the immigration problem, also through political agreements which will reduce the migratory flows from Libya and Tunisia." Italy and Tunisia found themselves "in full harmony on Libya as well," said Tajani.

In a recent interview with Italy's "La Stampa," the Italian FM said Libya is "strategic for Italy and for many reasons." Responding to a question whether he or Prime Minister, Georgia Meloni are planning to visit Libya, Tajani said that "We'll get there sooner or later, but first we need a clear plan leading to elections. Libya's stability is essential also for the migration issue."

Last week, Tajani expressed his concern about the situation in Libya, noting that "There is a great concern and we are working intensively on the diplomatic level on the Libyan issue."

"We are working with all countries in North Africa and sub-Saharan Africa because we consider them a priority to solve the migration issue, and Italy has close relations with the Mediterranean, not only geographically but also historically," he said.

Earlier this month, Meloni expressed her hope for Parliamentary and Presidential elections to be held in Libya, as soon as possible.

"We are determined to develop relations with Libya in all fields," Meloni said in a letter addressed to her Libyan counterpart, Abdel-Hamid Dbaiba.

"Libya's stability is an absolute priority of Italy's strategy, as it is an essential element to ensure the security of the entire region. We are ready to do our part to achieve this stability in support of the United Nations while respecting Libyan sovereignty," she said.