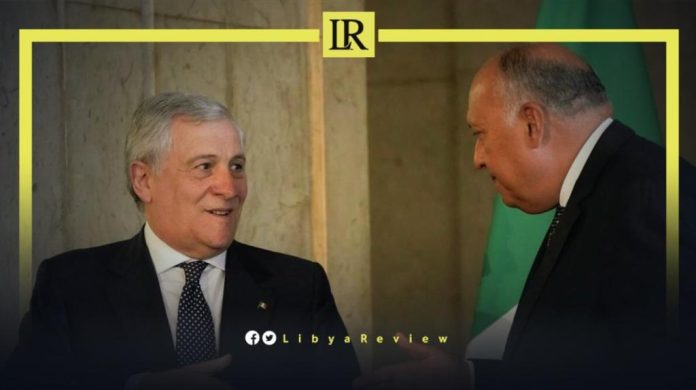 On Sunday, Italy's Deputy Prime Minister and Minister of Foreign Affairs, Antonio Tajani said that "a solution for the Libyan crisis must be reached through cooperation from all major parties." He also stressed that "Egypt is playing an important role in facilitating such cooperation."

Tajani's remarks came during a press conference held in Cairo, with his Egyptian counterpart, Sameh Shoukry.

Their discussions tackled migration, energy, developments in the Eastern Mediterranean, food security, and the repercussions of the Russian-Ukrainian crisis.

In early January, Egypt facilitated a meeting between the Speaker of the Libyan Parliament, Ageela Saleh and the Head of the High Council of State (HCS), Khaled Al-Mishri

Egypt's Ministry of Foreign Affairs welcomed the outcomes of the meeting, describing it as an "important step towards holding Presidential and Parliamentary elections simultaneously, as soon as possible."

"Egypt will always remain supportive of the choices of the Libyan people and the role of Libyan institutions to achieve security, stability, and unity in Libya." It added that Cairo will "also support Libya in a way that leads to the withdrawal of all foreign forces and mercenaries from the country."

On Friday, Italy's FM said that resolving the problems of illegal immigration and energy in Europe, is linked to resolving the crisis in Libya.

The Italian news agency, Nova quoted Tajani stressing "the need to reach a solution to the election crisis in Libya."

He noted that this could be achieved by reaching an agreement between the Libyan "overlapping" parties.

Notably, Italy's Coast Guard official has stated that 53,000 migrants arrived in Italy by sea, from Libya in 2022. This is an increase of 70% compared to 2021, according to the AKI news agency.

This was stated by Admiral Giuseppe Aulicino, Head of the Plans and Operations Department of the General Command of Italy's Coast Guard. He told a hearing of the Constitutional Affairs and Transport Committees that NGO ships operating on the Cyrenaica-Lampedusa line had rescued more than 11,000 people, 34% of whom departed from western Libya.

He noted that a total of 105,000 migrants arrived by sea in 2022, an increase of 56% over the previous year. 1,401 of them departed from Algeria, and 32,000 from Tunisia, an increase of 60% compared to 2021.