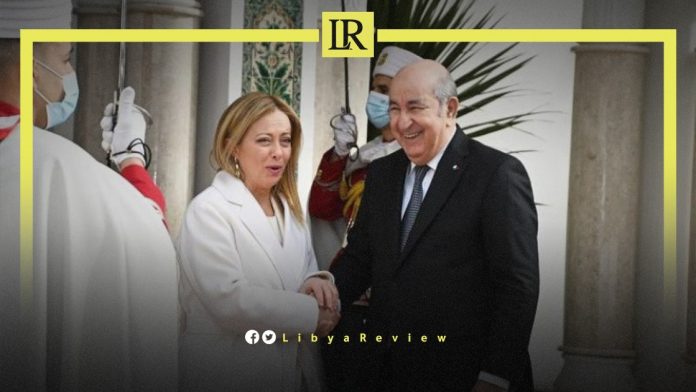 On Monday, Italy and Algeria stressed the need to reach a consensual solution to hold elections in Libya. As well as to support the comprehensive dialogue led by the United Nations Support Mission (UNSMIL) in Libya.

This came during a joint press conference between the Algerian President, Abdelmadjid Tebboune, and Italian Prime Minister, Giorgia Meloni who arrived in Algeria on Sunday.

During the conference, Tebboune said: "We agreed to coordinate work to solve the region's crises, and I sensed Meloni's position that reflects a great convergence in views about the Libyan crisis. We stressed the need to reach a consensual solution based on organising elections, supporting the interests of the Libyan state, and a comprehensive dialogue led by the United Nations."

"We talked about the crisis in Tunisia and Libya. Regarding the Middle East, we believe that it is necessary to return to peace negotiations, and reach a two-state solution," Meloni added.

The Italian Prime Minister arrived on her first foreign working visit since taking office in October.

On Friday, Italian Foreign Minister, Antonio Tajani said that resolving the problems of illegal immigration and energy in Europe, is linked to resolving the crisis in Libya.

The Italian news agency, Nova quoted Tajani stressing "the need to reach a solution to the election crisis in Libya."

He noted that this could be achieved by reaching an agreement between the Libyan "overlapping" parties.

Notably, an Italian Coast Guard official has stated that 53,000 migrants arrived in Italy by sea, from Libya in 2022. This is an increase of 70% compared to 2021, according to the AKI news agency.

This was stated by Admiral Giuseppe Aulicino, Head of the Plans and Operations Department of the General Command of the Italian Coast Guard. He told a hearing of the Constitutional Affairs and Transport Committees that NGO ships operating on the Cyrenaica-Lampedusa line had rescued more than 11,000 people, 34% of whom departed from western Libya.

He noted that a total of 105,000 migrants arrived by sea in 2022, an increase of 56% over the previous year. 1,401 of them departed from Algeria, and 32,000 from Tunisia, an increase of 60% compared to 2021.

According to the official, there are two flow lines from Libya: the Tripoli region in the West, where 33,000 migrants departed, and the Cyrenaica region in the East, where 20,000 migrants departed. As well as 17,000 migrants coming via the eastern Mediterranean route (Turkey, Egypt, Lebanon, and Syria).