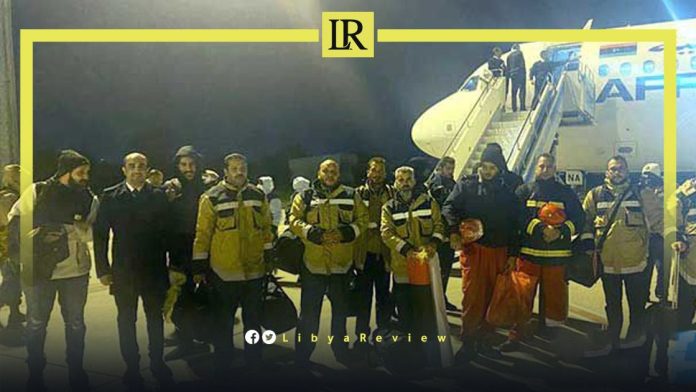 A Libyan rescue team has begun to assist teams in the earthquake-stricken areas of southeastern Turkey.

The team arrived in Adana, on Monday evening, after being commissioned by the Prime Minister of the Tripoli-based Government of National Unity (GNU), Abdel-Hamid Dbaiba.

The Libyan team includes 55 technicians from the Criminal Investigation Agency, the National Safety Authority, and the Military Medicine, Support, and Emergency Services. In-kind aid such as medicines and food were also sent for distribution to the victims.

Moreover, the Libyan Embassy in Turkey launched a campaign to collect aid for the victims of the devastating earthquake.

The Embassy said in a statement that staff in Ankara held an emergency meeting, in order to establish cooperation mechanisms with the Turkish authorities. This is to follow up on the conditions of citizens stranded in earthquake-stricken areas.

The Libyan Ambassador renewed his solidarity with the Turkish people to overcome this ordeal, announcing that the Libyan flag had been flown at half-mast.

According to Reuters, families in southern Turkey and Syria spent a second night in the freezing cold on Wednesday, as overwhelmed rescuers raced to pull people from the rubble. This comes two days after a massive earthquake killed more than 9,600 people.

In Turkey, dozens of bodies, some covered in blankets and sheets and others in body bags, were lined up on the ground outside a hospital in Hatay province.

Many in the disaster zone had slept in their cars or in the streets under blankets, fearful of going back into buildings shaken by the 7.8 magnitude tremor – Turkey's deadliest since 1999.

Rescuers there, and in neighbouring Syria warned that the death toll would keep rising as some survivors said help had yet to arrive.

With the scale of the disaster becoming ever more apparent, the death toll rose above 7,100 in Turkey. In Syria, already devastated by 11 years of war, the confirmed death toll climbed to more than 2,500 overnight, according to the Syrian government and a rescue service operating in the rebel-held northwest.

Turkish President, Tayyip Erdogan declared a state of emergency in 10 provinces. But residents in several damaged Turkish cities have voiced anger and despair at what they said was a slow and inadequate response by the authorities.