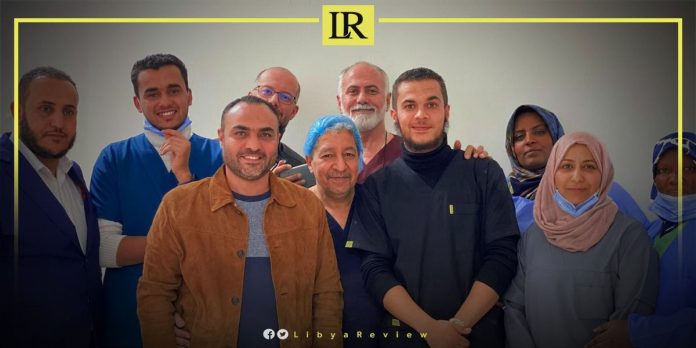 A visiting Jordanian medical team performed 18 hysteroscopy surgeries to treat women suffering infertility and delayed childbearing at the Zintan Hospital for Accidents and Teaching Surgery. According to the Libyan Ministry of Health. All of these surgeries were successful.

The visiting medical team consists of specialists in Endoscopic Hysteroscopy and In-Vitrofertilisation (IVF) Surgery, Hussein Rajaa Al-Tarawneh; Embryologist and Tissue Specialist, Mohamed Jalal Idris; Embryologist and Tissue Specialist, Tariq Ahmed Al-Mubarak; Consultant for Obstetrics and Gynecology, Adel Aba Ali, and Hysteroscopy and IVF technician, Fakhri Eid Al-Rihani.

The Ministry indicated that it hosted the visiting medical team, in coordination with the Sabha Centre for Infertility Treatment, and the Western Mountain Centre for Infertility Treatment in Zintan.

On his part, the Director of the Trauma and Surgery Hospital in Zintan, Issa Al-Imyani, explained that it was agreed with the Western Mountain Centre for Infertility Treatment to perform surgeries inside the hospital. The hospital has a fully equipped surgery room.

Al-Imyani called on the health facilities located in the municipality to constantly coordinate with each other to make use of the available resources, in order to enhance the treatment services inside and improve services for citizens.

Last October, a Jordanian medical delegation arrived in Sebha to perform Intracytoplasmic sperm injection (ICSI) operations, for 1,000 cases of infertility and delayed childbearing.

The Ministry of Health of the Libyan Government of National Unity (GNU) announced the arrival of a delegation to the Sebha Centre for Infertility Treatment.

The Ministry explained in a statement that the team came to perform IVF operations. They will "supervise the training of medical and paramedical personnel working at the center, on the latest methods for treating delayed childbearing, and ICSI techniques."

The delegation's visit came to enhance treatment services at home, and improve services for delayed childbearing.

In September, the Chairman of the Private Hospitals Association of Jordan, Fawzi Al-Hammouri confirmed that they would accept patients from all countries, except Libya.

In a press statement, Al-Hammouri said that medical tourism from Libya has been suspended for more than a year. This is due to the accumulation of debts owed by the Libyan government, in excess of $211 million, over the span of a decade.

He added that a committee from Libya visited Amman two months ago. This was to discuss the outstanding debts as well as and review and audit all issued invoices.