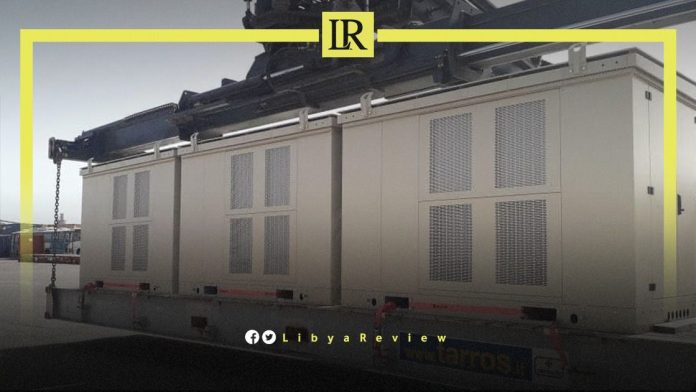 On Tuesday, the General Electricity Company of Libya (GECOL) announced the arrival of 19 ready-made electric stations to the port of Tripoli, supplied by Medelec.

In a statement, GECOL explained that the electrical stations have a capacity of (1000) kVA and (500) kVA, and will be used to improve the status of the electrical network in all regions.

The company noted that work is underway to transfer the new stations to the company's primary warehouses.

In January, the General Manager of Algeria's state-owned electricity company, Sonelgaz, Mourad Adjal announced Algeria's desire to export electricity to Libya, but he stressed the need to find suitable sources of financing for the project.

Regarding the issue, the Algerian official said, "Discussions in this regard are continuing with GECOL. The quantities of electricity exported to Libya would not be large if Sonelgaz transported them through Tunisia."

He stressed the need for Sonelgaz and GECOL to find sources of financing in order to implement the electrical interconnection project between the two countries.

Notably, Adjal met with a delegation from GECOL, led by the company's General Manager, Abdel-Hamid Al-Manfoukh.

The two discussed the cooperation between Algeria and Libya in the energy sector, where Sonelgaz affirmed its readiness to export electricity to Libya.

They also discussed the maintenance and operation of stations and electricity networks. As well as the maintenance of equipment, manufacturing of spare parts, and training of workers.

The Sonelgaz statement revealed that the meeting "comes as part of the implementation of the directives of the higher authorities in the two countries, in order to strengthen bilateral relations and revive cooperation between Sonelgaz and GECOL."

Adjal expressed Sonelgaz's readiness to provide its services, especially exporting electricity to Tripoli, maintenance, training, and the provision of spare parts.