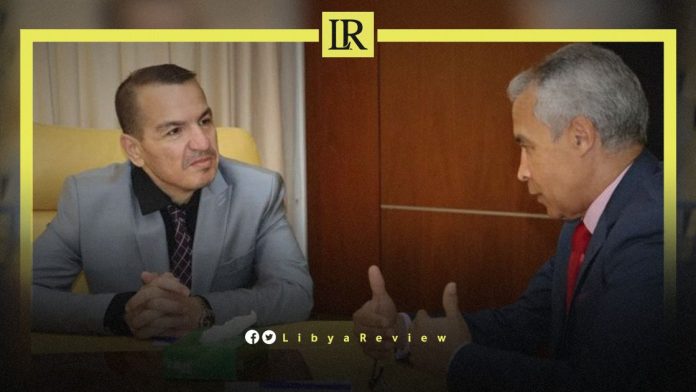 The Libyan Minister of Planning, Mohamed Al-Zaidani held a meeting with the Ambassador of France to Libya, Mostafa Mihraje, and his accompanying delegation.

The meeting was attended by the Director of the Technical Cooperation Office, and the Advisor to the Ministry of Planning for Local Development Affairs.

According to the media office of the Ministry of Planning, the meeting discussed "aspects of bilateral cooperation in the development of many fields, especially cooperation in the field of economic development. "

They discussed the "return of French companies to contribute to the implementation of development projects in various sectors, cooperation in the field of renewable energies, water, and oil, and benefiting from expertise and successful experiences in order to achieve development goals in Libya."

On Monday, the Governor of the Central Bank of Libya (CBL), Al-Siddiq Al-Kabir received Mihraje and the economic advisor to the Embassy, Ivan Potier.

According to a statement, the Ambassador offered French expertise in the field of digitisation and training, to develop the capabilities of Libyan banks.

Al-Kabir and Mihraje exchanged views on various issues, including the path to unify the CBL and the results of consultations with the International Monetary Fund (IMF).

The meeting touched on the importance of supporting the efforts of the government, and the National Oil Corporation (NOC) to increase the production and export of oil. As well as giving priority to diversifying sources of income to ensure the financial sustainability of the state, and move the economy forward.

Notably, the Libyan Minister of Education, Musa Al-Maqrif discussed ways to teach the French language in Libyan high schools, with Mihraje.

Al-Maqrif said that teaching foreign languages comes as part of the ministry's efforts to develop the education sector in the country. Students in Libya can also study Italian as an optional language.

Al-Mihraje appreciated the ministry's efforts to include teaching French in the study plan as an optional language. He expressed his readiness to support the plan with training programs and curricula.

The French Ambassador also affirmed the importance of the relations between Libya and France. He stressed the importance of Libya's unity, stability, and sovereignty.