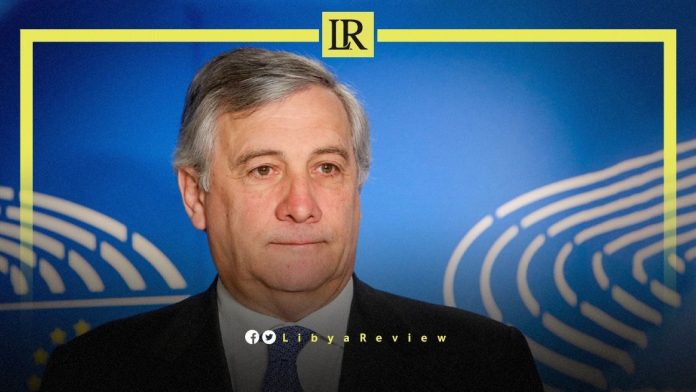 On Saturday, the Italian Deputy Prime Minister and Minister of Foreign Affairs, Antonio Tajani, blamed France for its mistake in removing the late leader Muammar Gaddafi from power, which caused severe damage to the North African country and created a stage of great instability.

According to the Italian agency Aki, the Italian top diplomat confirmed, "the historical relations that bind Italy and Libya give us the right to talk with it about the immigration file."

He added, "we represent a political force and a leading country in the Mediterranean region, and this also makes it our right to speak with representatives of Libyan politics."

The Italian Minister continued, "we are interested in finding a solution to the issue of illegal immigration," claiming that "thanks to the agreement concluded by (then-Prime Minister) Silvio Berlusconi with Gaddafi, migration flows stopped."

Tajani stressed that his country is working for the stability of Libya, to ensure preventing the flow of migrants to European countries, especially Italy.

He also highlighted the importance of the Libyan issue with regard to energy supplies and the stability of the Mediterranean. He pointed out that his country provides a safe humanitarian passage for migrants that Italy needs and does not fear NGO's working in this field, calling for the non-politicisation of this file.

On the other hand, the German NGO, Sea-Watch criticised the Italian Coast Guard for returning 30 migrants to Libya, after they were rescued by the ship Sea-Watch 3 in late April, according to the Italian Infomigrants website.

Sea-Watch 3 rescued the migrants in the Mediterranean and informed the Sea-Watch plane that the Italian Coast Guard had ordered them to return the migrants to Libya. This was based on instructions from the Maritime Rescue Coordination Centre in Rome.

The German NGO confirmed on Thursday that the migrants were later transported to Libya, where the Captain of the Sea-Watch 3 gave orders to return the migrants.

In 2018, a similar event took place, when the Captain of the ship Asso 28 was sentenced to one year in prison by an Italian court for handing over 108 migrants to Libya, after rescuing them.