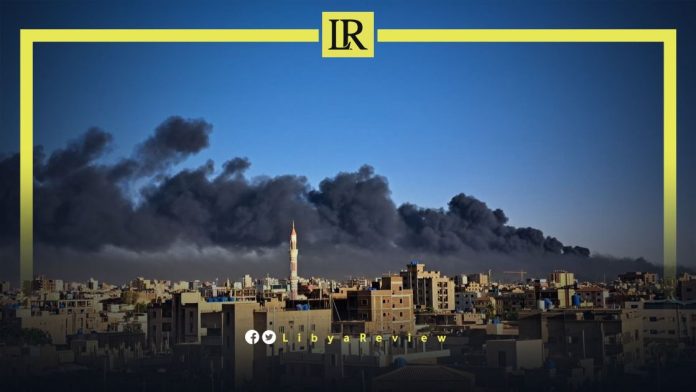 A member of the Libyan Political Dialogue Forum (LPDF), Ahmed Al-Sharkasi, said that United States (US) President, Joe Biden's issuance of an order to implement deterrent sanctions against those obstructing peace in Sudan will affect Libya.
In a tweet, Al-Sharkasi said that the sanctions will have repercussions in Libya and similar penalties.
On Saturday, the Libyan Embassy in Sudan issued a final appeal for members of the Libyan community wishing to leave the country to reach out to the Embassy's emergency team as soon as possible.
In a statement, the Libyan Embassy said that the final evacuation flight for the Libyan nationals wishing to leave Sudan is scheduled to be operated on Sunday or Monday, according to coordination with the assigned emergency team.
The Embassy wished safety for all members of the Libyan community in Khartoum, stressing the need to take precautionary measures and adhere to safe places of residence.
The Embassy published telephone numbers for members of the community in Khartoum to communicate with the emergency team.
0900800338 – Direct Local Number
+218 92-5254113 – WhatsApp
+90 534 082 41 97 – WhatsApp
It indicated that this comes as part of the framework of the Ministry of Foreign Affairs' concern for the safety of Libyan citizens across Sudan. The Embassy has suspended its work and closed its headquarters in Khartoum, as a result of the clashes taking place in Sudan.
Notably, a high-ranking Libyan military official warned of the repercussions of the armed clashes in Sudan, on the situation in Libya.
He called for the closure of the common borders with Sudan until the situation calms down.
The Commander of the Military Organisation and Administration Authority in southern Libya, Brigadier General Abdel-Salam Al-Busaifi, appealed to the Chiefs of Staff in the East and West of Libya to quickly close the borders.
He urged them to "assign striking military forces to protect them, and prevent any infiltration and to station reconnaissance planes at Kufra Airport."