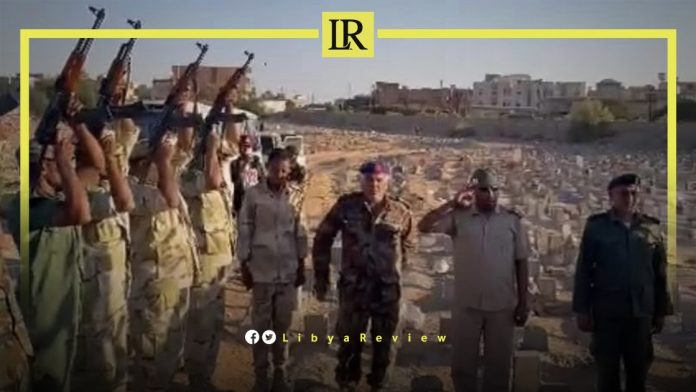 In a recent act of bravery, three valiant soldiers of the Libyan National Army (LNA)-affiliated 10th Infantry Brigade, have tragically lost their lives while repelling an attack in Libya's southwestern region. The Brigade honoured its fallen soldiers in a solemn funeral procession.
The soldiers, identified as Mohamed Ahmed Ibrahim Omar, Nour El-Din Saleh Abdulrahman Mohammed, and Ali Hamouda Hassan fell into action, repelling an armed group that was seeking to establish a presence in the southwest.
Expressing deep sorrow, Colonel Khalifa Ali Mohamed Al-Saghir, the Brigade Commander, mourned the soldiers. He extended his heartfelt condolences to the bereaved families, comrades, and all officers and enlisted men of the LNA. He underscored that "their noble sacrifice will not be in vain."
Al-Saghir emphasized his "pride and admiration for the sacrifices made by the LNA soldiers and officers, under the command of Field Marshal Khalifa Haftar."
He highlighted their "tenacious spirit in defeating formidable terrorist organizations across the globe. Despite a decade-long confrontation with outlawed armed organizations, smuggling gangs, and human trafficking rings, they continue to stand strong. LNA forces continue their fight under an internal and external siege, specifically targeting the military institution. These relentless efforts underscore their unwavering commitment to uphold the unity and sovereignty of Libya."
Libya has been in a state of turmoil since the Arab Spring protests of 2011, which led to a civil war, foreign military intervention, and the overthrow and death of its former leader, Muammar Gaddafi.
Post-Gaddafi, the country has been grappling with political instability and power struggles between various factions, militias, and governments. The complex conflict has been characterized by a myriad of local and regional factors, involving different tribal, regional, and political actors. It has attracted a significant amount of international attention and intervention.