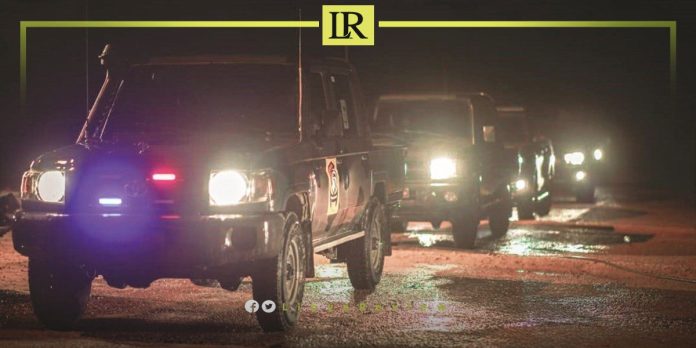 The Libyan National Army (LNA) has deployed more than 1,000 military vehicles along the country's southern borders, as part of an ongoing operation to counter Chadian opposition groups and foreign mercenaries, according to a military source who spoke to "Al-Ittihad."
The source indicated that the LNA plans to "continue military operations in the southern region to fully eradicate armed groups, and foreign mercenaries." The airforce is also carrying out reconnaissance operations, along the border with Chad and Niger.
The Libyan Army has initiated a military operation aimed at establishing security and stability in the southern cities. As well as securing the borders shared with Chad, Niger, and Sudan.
Meanwhile, the European Union's Ambassador to Libya, Jose Sabadell, concluded his three-year mission in the country. In a tweet, Sabadell emphasized that the situation in Libya has improved substantially since his arrival in September 2020, particularly in terms of security. He stressed the importance of political consensus among Libyan leaders for a future that serves the interests of the Libyan people.
This significant military deployment underscores Libya's efforts to combat armed groups and secure its southern border region. It also draws attention to the larger geopolitical issues affecting Libya and its neighbouring countries. Keep an eye on our updates for more insights into the ongoing situation.
Last week, the Spokesperson for the LNA, Major General Ahmed Al-Mismari, confirmed that military operations will continue until all objectives are met. Speaking to Al-Ittihad newspaper, Al-Mismari stated the operations are aimed at securing Libya's southern border, and preventing it from becoming a hub for human trafficking.
The LNA launched a military operation with the goal of extending its control and influence, according to an official statement. The army emphasised that Libya "will not serve as a launch pad for armed groups or illegal activities that pose threats to its neighbours."
The operation involves a selection of elite forces from the LNA, participating in both ground and air capacities. The army stated that the operation would not cease until its goals were achieved.
The LNA further pointed out that the "ongoing political and security tensions in the Sahel and Sahara regions have contributed to the destabilisation of the area. This is affecting the countries' ability to control their land borders. As well as enabling the movement of terrorist and criminal cells," according to the statement.
The LNA affirmed its commitment to protecting the nation, its citizens, its economic capabilities, and maintaining stability and security throughout southern Libya. The decision for the ongoing operation comes in light of intelligence reports, indicating the urgent need to stabilize the situation in the south.