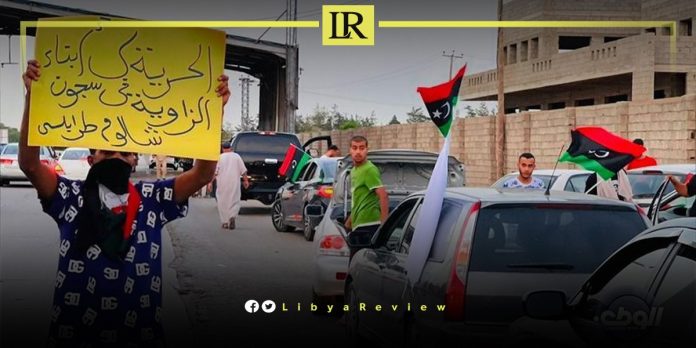 The Security Directorate of the Libyan capital reported the arrest of 49 people during peaceful protests against the normalisation of relations with Israel and calls for the removal of the outgoing Government of National Unity (GNU) led by Abdelhamid Dbaiba. These arrests occurred over just two days, from August 31st to September 1st, 2023.
The capital city of Tripoli and most western regions have witnessed a significant deployment of armed military groups in anticipation of protests following a meeting between Libya's Foreign Minister Najla El Mangoush and her Israeli counterpart, Yair Lapid, last week.
It is essential to note the widespread sentiments of opposition to normalisation with Israel and calls for political change in Libya, as demonstrated by these recent protests and arrests. This development underscores the complex political dynamics in the region and the challenges faced by Libya's transitional government in navigating its foreign relations while addressing the aspirations of its people.
On Saturday, the Interim Prime Minister of the GNU, Abdelhamid Dbaiba, announced that "the era of wars in Libya has ended and will never return." His remarks were made at a graduation ceremony for a counterterrorism force.
The Libyan Prime Minister pledged to thwart any attempts that "sow discord and destabilise the security of the nation and its people." These statements were publicised through the official government Facebook account.
Libya has faced escalating political, economic, and security turmoil since the toppling of the late dictator Moammar Gaddafi in 2011. The country witnessed a struggle for power among various factions, further aggravating its instability.
The North African nation also suffers from a fragmented governance system, with two separate governments claiming legitimacy. In the East, there is a government assigned by the Parliament and led by designated Prime Minister Osama Hammad.
Meanwhile, in the West, the government led by Abdelhamid Dbaiba was established based on United Nations (UN)-brokered political agreements. This government, based in Tripoli, refused to relinquish power except through legitimate elections.
With Dbaiba's strong statement on the cessation of hostilities, Libya may be entering a new chapter in its intricate political scenario. Whether this brings lasting peace is a matter that remains to be seen.