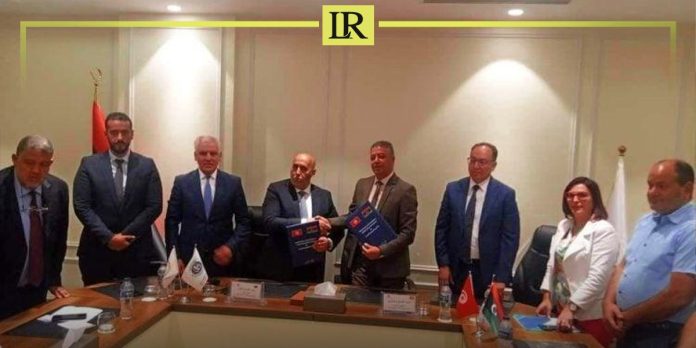 Libya and Tunisia have signed the sixth version of their agreement for the mutual recognition of conformity certificates, and quality marks.
This was formalised by officials from the Libyan National Centre for Standardisation and its Tunisian counterpart, the National Institute for Specifications and Industrial Property.
Notable attendees included Mohamed Al-Raied, President of the Libyan General Union of Chambers of Commerce, Industry and Agriculture, and Asaad Al-Ajili, the Tunisian Ambassador to Libya.
The Libyan General Union emphasised the agreement's significance for enhancing bilateral trade, and encouraging competition among manufacturers and traders.
They highlighted that the agreement, in place since 2005, remains unique among Arab nations. Its benefits include streamlining trade processes, reducing costs, and simplifying the transportation of goods between Libya and Tunisia.
Both nations view each other as pivotal economic partners.
Days ago, the Governor of the Central Bank of Libya (CBL), Al-Siddiq Al-Kabir, and his Deputy, Marai Muftah Rahil met with their Tunisian counterpart Marwan Al-Abbasi on Thursday. This marks the first formal meeting for Al-Kabir and Rahil, since the unification of the CBL.
The meeting was hosted by the Central Bank of Tunisia to strengthen "communication with regional and international parties" and was in the context of welcoming the unification of the CBL and supporting future cooperation between the institutions.
Libya announced the "return of the Central Bank as a unified sovereign institution" on 20 August, during a meeting held by Al-Kabir and Rahil with bank managers and advisors in Tripoli and Benghazi.
The move to unify the bank was widely applauded by Prime Minister Abdel-Hamid Dbaiba, who described the unification as a "significant milestone in enhancing the performance of this important sovereign institution." Meanwhile, Libya's Presidential Council urged the bank to "address the impacts resulting from its prior divided state."
The Libyan Parliament-designated government appreciated "the efforts made in supporting the unification of the bank, which will consequently handle the repercussions stemming from the split." The Speaker of the Parliament, Ageela Saleh also stated that the unification came, "after sincere national efforts."