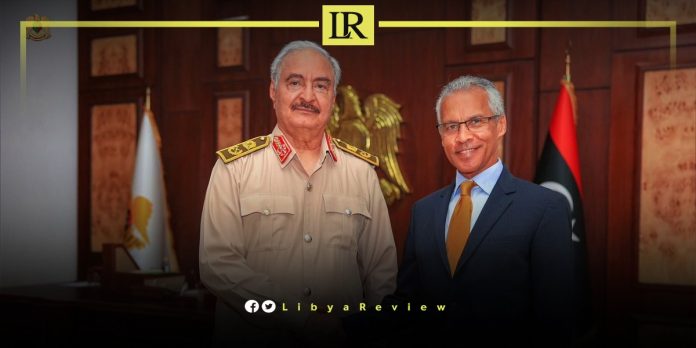 On Sunday, the General Commander of the Libyan National Army (LNA), Field Marshal Khalifa Haftar met with the French Ambassador to Libya, Mostafa Mihraje in Benghazi.
The meeting, which was also attended by the French military attaché, touched on the devastating aftermath of storm, Daniel, which hit the country last week.
Mihraje affirmed France's profound solidarity with Libya, both its leadership and citizens, during these tumultuous times marked by severe flooding.
Reiterating France's proactive stance, the Ambassador pledged France's hands-on involvement in aiding search and rescue operations, and dispensing medical services to those affected in the Green Mountain regions.
Last week, regions in eastern Libya experienced intense floods, leading to numerous deaths and disappearances. Homes were submerged, and significant infrastructure damage was observed due to the Mediterranean storm.
Libya is in dire need of urgent medical supplies, especially in some of its worst-hit regions like the city of Derna, according to Dr. Rick Brennan from the World Health Organization (WHO).
Brennan, who oversees the Emergency Programs at the WHO's Eastern Mediterranean Regional Office, highlighted that many of Libya's medical facilities were already underperforming, even before the storm's onset. Many of these facilities had been grappling with issues like poor equipment, and staff shortages.
Brennan pointed out challenges in delivering aid to the regions most in need, stating, "The majority of the initial response to any significant crisis like this typically comes from the local community. However, we—the international community—need to rally behind them, providing extensive support commensurate with these immense needs."
The United Nations Office for the Coordination of Humanitarian Affairs (OCHA) has released an urgent appeal for $71.4 million dollars. The fund aims to address the immediate needs of Libyans devastated by recent catastrophic flooding. This call to action targets assistance for 250,000 individuals, out of an estimated 884,000 who might need aid in the coming three months.