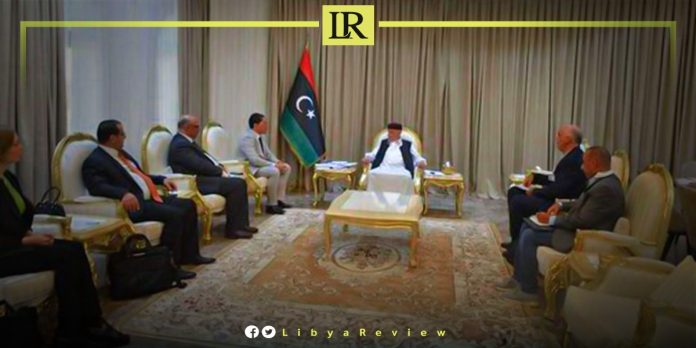 The Libyan Parliament Speaker, Ageela Saleh engaged in critical discussions with the Libyan Minister of Labour and Rehabilitation, Abdallah Al-Sharif Arhuma, and a visiting Jordanian advisory delegation in the city of Al-Qubbah. This congregation illuminates ties between Libya and Jordan, furthering prospects for strategic planning in critical labour and vocational training initiatives.
The articulate spokesperson for the House of Representatives, Abdullah Blaiheg, highlighted the primary objective behind this diplomatic rendezvous, emphasising the collaboration in devising strategic plans for Libya's Ministry of Labor and Rehabilitation.
Amongst the pivotal talking points, the delegation focused on training and vocational rehabilitation, regulation of expatriate labour, and comprehensive assessments of the conditions of struggling companies.
Libya, which is grappling with socio-economic challenges, takes a stride towards diplomatic and consultative collaborations, underpinning the emphasis on vital sectors such as labour and vocational training. The Jordanian delegation's visit is not merely a diplomatic gesture, but stands as a testament to an envisioned partnership that traverses borders, cultures, and shared aspirations for robust employment and vocational frameworks.
In February, Libya's Acting Minister of Health, Ramadan Abu Jinnah, met with the Jordanian Health Minister, Firas Al-Hawari on the sidelines of the conclusion of the Arab Board of Health Specialisations (ABHS) programs for 2022.
The Libyan Ministry of Health stated that they discussed enhancing aspects of cooperation, in the health sector.
The two also discussed ways to activate training programs for healthcare workers.
Al-Hawari said that ABHS is a leading Arab institution, and one of the most successful institutions of joint Arab action. It is a major incubator for building the capabilities working in the health sector.
According to the Federation of Arab News Agencies (FANA) the ABHS aims to direct and refine healthcare workers to serve in various Arab countries, in order to achieve the ABHS mission.