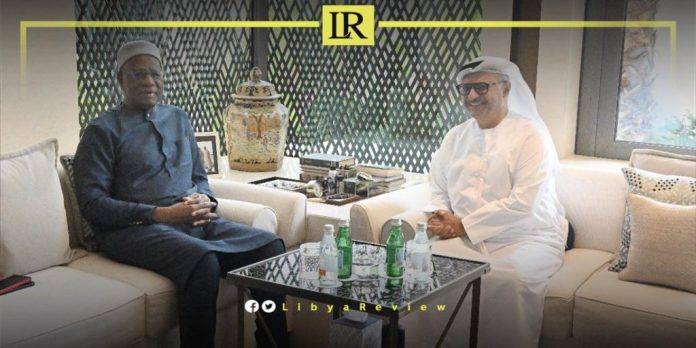 In a pivotal meeting in Dubai, Abdoulaye Bathily, the United Nations (UN) Envoy to Libya, engaged in thorough discussions with Anwar Gargash, the Diplomatic Advisor to the President of the United Arab Emirates (UAE), addressing the nuanced political developments within Libya.
The conversations, elucidated by the media office of the UN mission, honed in on Libya's current political transitions and the commendable efforts of the UN. The UN helped in assisting Libyan leaders to converge towards a national resolution regarding electoral laws.
Bathily and Gargash critically dissected the challenges encasing the humanitarian response in Derna and emphasised the unequivocal need for a coordinated approach towards reconstruction efforts. Libya, entrenched in conflict and turmoil, has become a linchpin for international interventions aspiring to steer the nation towards a trajectory of sustainable development and democratic governance.
Bathily expressed his profound gratitude towards the UAE for its unwavering and sizable humanitarian aid in Derna and other impacted areas, acknowledging the nation's substantive role in alleviating the crises in conflict-ridden areas.
On his part, Gargash reaffirmed the UAE's staunch support for a political solution in Libya. Aspiring to a pathway that ensures successful elections and addresses the Libyan populace's aspirations for unified institutions.
On the 11th of September, Sheikh Mohammed bin Zayed Al Nahyan, President of the UAE, issued directives to send urgent humanitarian aid and search-and-rescue teams to Libya. He did this to address the consequences of severe flooding caused by heavy rains in eastern Libyan cities.
President bin Zayed expressed his condolences to Libya's government and people, praying for the victims and their families and wishing a speedy recovery for the injured.
Bin Zayed made phone calls to Commander-in-Chief of the Libyan National Army (LNA), Field Marshal Khalifa Haftar, and Prime Minister of the Government of National Unity (GNU) Abdelhamid Dbaiba, extending condolences for the flood victims.
Haftar and Dbaiba expressed their gratitude and appreciation for the support. They also lauded the UAE's consistent and genuine brotherly stances towards the Libyan people, under various circumstances.