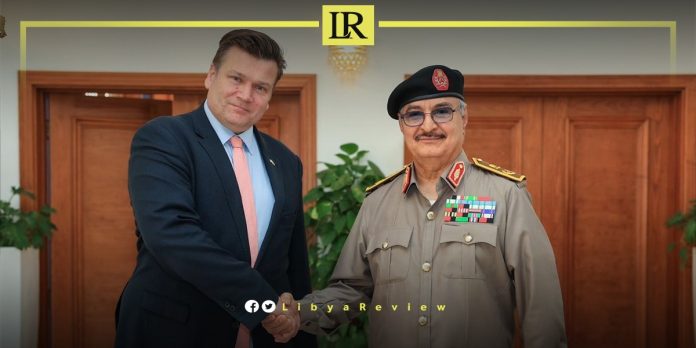 On Tuesday, the General Commander of the Libyan National Army (LNA), Field Marshal Khalifa Haftar hosted a pivotal meeting with the UK's State Minister for the Armed Forces, James Heappey in Benghazi.
The meeting was also attended by the Chargé d'affaires of the British Embassy in Libya, Catherine Wilde, and her accompanying delegation.
In a statement, the LNA reported that the discussions were focused on enhancing Libyan-British cooperation, in the field of counterterrorism. The talks also touched upon the latest political developments, and set the stage for the appropriate conditions to conduct the upcoming Presidential and Parliamentary elections in the nation.
Notably, the Prime Minister of Libya's Government of National Unity (GNU), Abdel-Hamid Dbaiba also held a meeting with Heappey on Monday, in Tripoli.
The meeting, which was also attended by the Chief of General Staff, First Lieutenant General Mohammed Al-Haddad, and the State Minister for Prime Minister and Cabinet Affairs, Adel Juma, was dedicated to overseeing Libyan-British cooperation in training and counterterrorism.
Furthermore, an agreement was reached through a joint committee, to coordinate the aspects of technical cooperation between the two countries.
Last month, Haftar received US Africa Command's (AFRICOM) Head, General Michael Langley in Al-Rajma.
During the meeting, General Langley recognised the pivotal role of the LNA in the fight against terrorism, spotlighting the stability achieved in eastern and southern Libya.
Expressing solidarity, the delegation conveyed condolences to Haftar and the Libyan people for the lives lost in the recent floods affecting the Green Mountain region. Langley further assured support, committing to provide vital medical and relief aid to those impacted by the natural calamity.
These diplomatic engagements signify a reinforced commitment between Libya, the United Kingdom, and the United States to forge pathways in counterterrorism initiatives, military training, and ensuring the facilitation of democratic processes amidst the evolving political milieu.