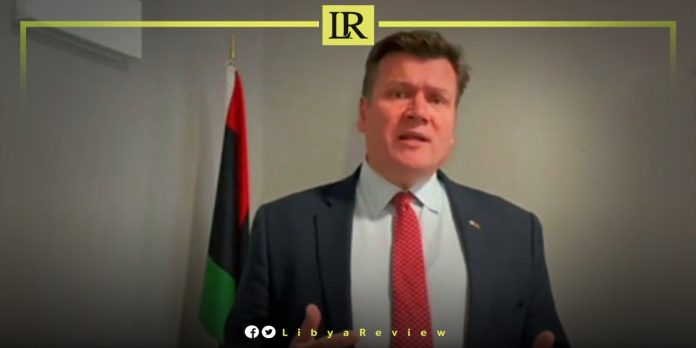 On Tuesday, the UK's State Minister for Armed Forces, James Heappey emphasised his commitment to the Libyan people, during talks in Benghazi and Tripoli.
In a video message, Heappey highlighted that Britain stands with UN Envoy to Libya Abdoulaye Bathily, advocating for a unified Libyan national mechanism, coordinated with local, national, and international partners, to provide transparent and accountable relief.
During his visit to Tripoli and Benghazi, Heappey encouraged all Libyan factions to "work constructively with Bathily to uphold their responsibilities toward the Libyan people and to achieve long-term stability, security, and prosperity." He added that the UK is "ready to support Libya during its immediate humanitarian crisis, ensuring the success of elections, establishing a unified government, and ultimately, fostering economic recovery and development."
Furthermore, Heappey indicated that Britain has sent 55 tons of aid to flood victims, including water filters and sanitary supplies, to reduce the risk of waterborne disease infection. Emergency shelter materials and solar lamps, plus millions of pounds in aid to respond to the UN's urgent appeal, have also been dispatched. The aid will go towards healthcare, psychological and social support, as well as vital water, sanitation, and hygiene projects.
He also underscored Britain's support for an emergency medical team working in eastern Libya, which is coordinating with local authorities and partners on the ground to support the Libyan healthcare system, along with funding British technical engineering support.
Earlier today, the General Commander of the Libyan National Army (LNA), Field Marshal Khalifa Haftar hosted a pivotal meeting with Heappey in Benghazi.
The meeting was also attended by the Chargé d'affaires of the British Embassy in Libya, Catherine Wilde, and her accompanying delegation.
In a statement, the LNA reported that the discussions were focused on enhancing Libyan-British cooperation, in the field of counterterrorism. The talks also touched upon the latest political developments, and set the stage for the appropriate conditions to conduct the upcoming Presidential and Parliamentary elections in the nation.
Notably, the Prime Minister of Libya's Government of National Unity (GNU), Abdel-Hamid Dbaiba also held a meeting with Heappey on Monday, in Tripoli.