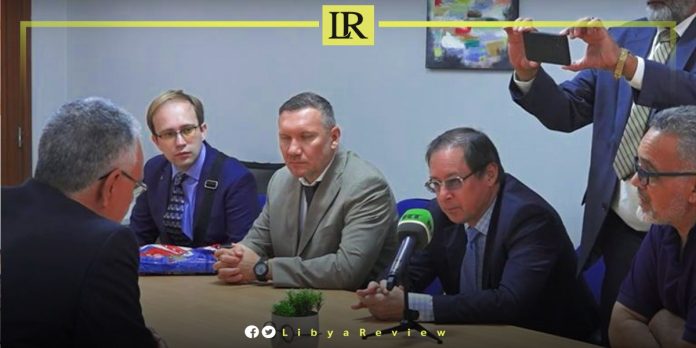 The Russian Ambassador to Libya, Aydar Rashidovich Aganin announced that Russia will offer 25 scholarships to Libyan students, in various academic disciplines.
Ambassador Aganin explained that this year, 30 Libyan students will arrive in Russia, as part of a project to provide educational services to Libyans.
He emphasised the historical ties between Libya and Russia, acknowledging that "these relations have faced challenges due to the country's recent tumultuous years. However, the Russian Embassy is working to revitalise these connections."
Aganin made these statements during his visit to the Higher Institute of Technical Arts in Tripoli. During his visit, he met with the Deputy Minister of Technical Education, Tahir bin Tahir, and learned about the institute's activities.
Last month, the Minister of Culture and Knowledge Development in the Libyan Government of National Unity (GNU), Mabrouka Toughey received Aganin.
During the meeting, discussions revolved around avenues for cooperation in cultural and artistic fields, aiming to enhance, support, and develop them between the two nations.
Toughey expressed her gratitude to the Russian Federation for its "solidarity and cooperation in offering support and relief after the cyclone disaster that hit several regions in eastern Libya."
The Russian Ambassador thanked her for the warm reception, and handed her an official invitation from the Russian Minister of Culture to participate in the ninth forum of Culture Ministers.
Notably, the General Commander of the Libyan National Army (LNA) Field Marshal Khalifa Haftar received Italian General, Gennaro Vickyoni at his office in Benghazi.
Vickyoni, spearheading a high-ranking delegation from Italy, arrived to discuss the aftermath and repercussions of the catastrophic storm, Daniel, which heavily impacted the country.
Expressing deep condolences on behalf of the Italian government, General Vickyoni conveyed Italy's solidarity with the Libyan people and leadership. Especially concerning the tragic events that recently affected the cities in the Green Mountain region, and eastern coastline.
In turn, Haftar lauded the proactive support and relentless efforts of the Italian government. He highlighted Italy's swift action in sending rescue missions, humanitarian aid, advanced equipment, as well as medical and logistical support in these challenging times.