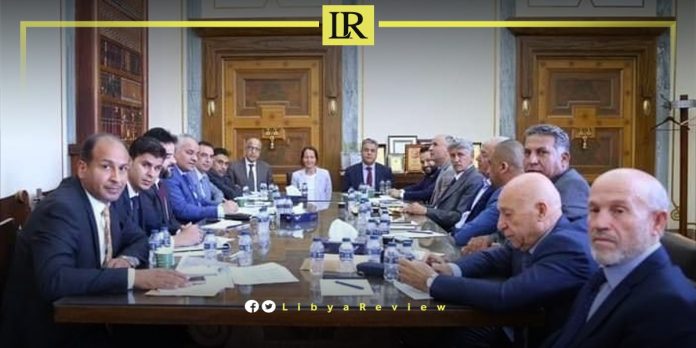 The Central Bank of Libya (CBL) has confirmed that the World Bank is set to conduct a comprehensive assessment of the devastated city of Derna, following the floods that hit eastern Libya last month.
On Wednesday, the Governor of the CBL, Al-Siddiq Al-Kabir, along with his Deputy, Maraay Rahil Al-Barasi, and members of the Financial Committee of the Libyan Parliament held a meeting with the World Bank's Resident Representative in Libya, Henriette von Kaltenborn-Stachau.
According to the CBL, the meeting discussed the role of the World Bank in the reconstruction of Derna, and the areas severely affected by the aftermath of the devastating storm Daniel.
The meeting was dedicated to developing a shared vision with all government institutions, to ensure the successful reconstruction of the affected regions and to overcome any challenges.
During the meeting, Kaltenborn-Stachau presented her insights regarding the World Bank's damage assessment, its vision for the reconstruction process, and its past experiences in other nations.
The World Bank's comprehensive assessment is expected to be delivered next month.
Earlier this week, Libya's Finance Minister, Khaled Al-Mabrouk held discussions with the President of the World Bank, Ajay Banga during the annual meetings of the bank in Marrakech, Morocco.
The Ministry of Finance reported that Banga expressed solidarity with Libya, amidst the challenging circumstances faced by areas affected by floods. He affirmed the bank's readiness to provide support and assistance in relief efforts, damage assessments, and reconstruction projects.
Al-Mabrouk also participated in the meeting of Arab Governors, focusing on conveying the demands and recommendations of Arab countries to the World Bank Group.
Additionally, he met with Okey Oramah, the President of the African Export-Import Bank (Afreximbank). They discussed Libya joining the bank, given that all African countries except Libya, are already members.