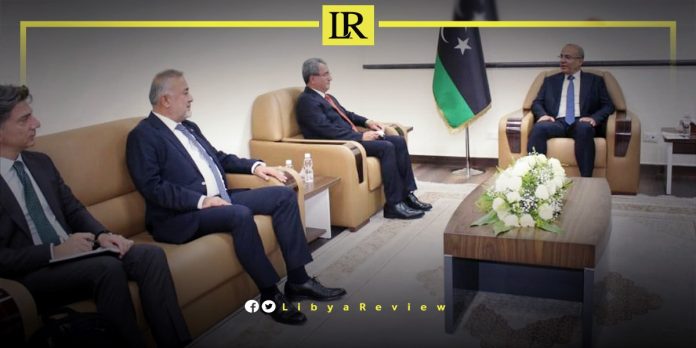 On Monday, Turkish Deputy Foreign Minister, Ahmet Yıldız underlined Turkey's "unwavering commitment to advancing a political resolution in Libya." He emphasised Turkey's "determination to play a central role in the success of Libya's national reconciliation."
These remarks came during Yıldız's meeting with Abdullah Al-Lafi, Deputy Head of Libya's Presidential Council, in the presence of Turkey's Ambassador to Libya, Kenan Yilmaz.
A core aspect of the discussion centered on deepening bilateral relations.The attendees delved into the ongoing political developments in Libya, focusing on the steps needed to finalise the transitional phases. A primary objective is to align with the aspirations of the people, by ensuring elections are held with broad consensus. Renewed trust among political entities and addressing areas of discord were also highlighted as crucial.
An essential topic of discussion was the rebuilding of Derna, and other eastern Libyan cities ravaged by recent floods. The efforts of Turkish rescue teams, currently active in the region, were lauded. The meeting also touched upon the Presidential Council's pivotal role in spearheading the national reconciliation process, and the potential of an all-inclusive conference that brings together significant factions.
In closing, Al-Lafi commended Turkey for its proactive stance in bolstering Libya's political trajectory, and its invaluable aid to Derna.
Notably, Yıldız is set to travel to Benghazi after completing his tour in Tripoli, according to a statement by the Turkish Ministry of Foreign Affairs.
His visit aims to address the repercussions of the devastating floods that hit Derna, and the eastern region on 10 September. During his stay in Benghazi, Yildiz will hold discussions with local authorities about the aftermath of the floods.
In response to the crisis, Turkish President Recep Tayyip Erdogan announced on 20 October that Turkey is prepared to contribute to the reconstruction of Derna, and offer its expertise in disaster management. This commitment was conveyed during a meeting with the Prime Minister of the Government of National Unity (GNU), Abdel-Hamid Dbaiba, held at the Vahdettin Pavilion in Istanbul.
On 21 September, Ambassador Yilmaz, visited Derna to assess the extent of damage caused by the storm Daniel. He was accompanied by the Libyan Parliament-designated Prime Minister, Osama Hammad.