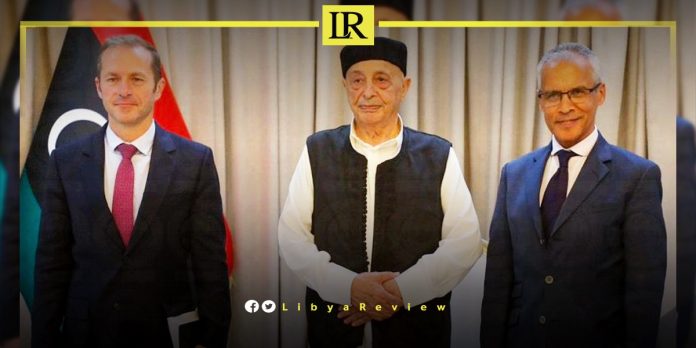 On Monday, the Speaker of the Libyan Parliament, Ageela Saleh held talks with Paul Soler, the French President's Special Envoy to Libya.
The meeting was also attended by the French Ambassador to Libya, Mostafa Mihraje, and several accompanying officials.
The core of their discussion revolved around Libya's evolving political landscape, especially the electoral laws recently formulated by the 6+6 Joint Committee.
Highlighting the importance of the forthcoming elections, Saleh emphasised the "pressing need for a unified Libyan government. This would prioritise facilitating the elections, and bolster the High National Election Commission (HNEC) to fulfil this national objective."
Additionally, the duo stressed the need for a fortified partnership between France and Libya, to deter extremist groups and terror activities.
On Sunday, the General Commander of the Libyan National Army (LNA) Field Marshal Khalifa Haftar met with Soler.
During his Tripoli visit, Soler also delved into discussions about the upcoming electoral processes and the crucial reconstruction of areas severely affected by the destructive floods in Derna and the Green Mountain areas last September.
This meeting underscores the international community's commitment, especially from influential players to guiding Libya towards lasting peace and stability.
Libya, particularly post-2011, has become intricately linked with issues related to terrorism and internal strife, which has made it a focal point for international concern and intervention.
Apart from terrorism, the anarchy in Libya facilitated a surge in human trafficking and illegal migration. Libya, with its extensive coastline, became a primary departure point for migrants aiming to reach Europe, leading to a humanitarian crisis.
Libya continues to grapple with internal divisions, though there have been recent efforts to establish a unified transitional government. The threat of terrorism, while reduced compared to its peak, remains a significant concern.
The country's vast oil reserves, strategic location, and the persistence of external actors ensure that Libya remains a key geopolitical focal point in the fight against terrorism and the broader dynamics of the Middle East and North Africa.