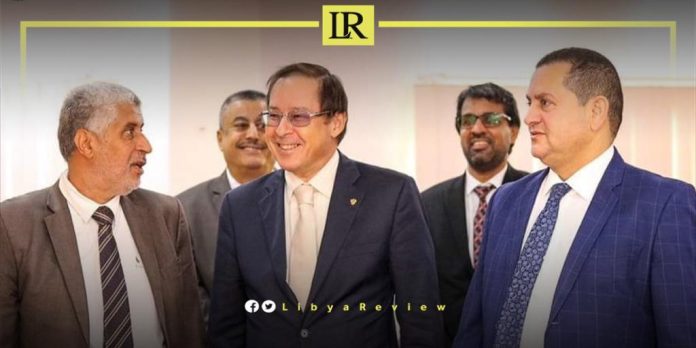 On Thursday, the Foreign Minister of the Libyan Parliament-designated government, Abdel-Hadi Al-Hwaij held a meeting with the Russian Ambassador, Aydar Rashidovich Aganin and his accompanying delegation.
The meeting explored ways to enhance and develop bilateral relations, for the benefit of both nations. It also addressed the importance of reopening the Russian Consulate, in Benghazi.
Both parties discussed activities that would bolster cooperation, and their participation in international events related to Benghazi, the capital of Islamic culture for the year 2023, along with other joint programs.
Last month, Russian Foreign Minister, Sergey Lavrov expressed hope for Libya's potential to prepare for vital general elections, under the aegis of the United Nations. Lavrov's comments underscored the significant challenges faced by a nation reeling from years of conflict.
Speaking at the 78th session of the United Nations General Assembly, the Russian top diplomat pinpointed the roots of Libya's political deadlock to the 2011 military campaign, that led to the downfall of Muammar Gaddafi.
"A decade on, Libyans remain haunted by the aftermath of NATO's actions, which not only destabilised their homeland but also ushered in a surge of terrorism across the Sahara and Sahel," Lavrov asserted.
Lavrov further delved into the situation in Sudan, describing it as "another casualty of the West's ill-conceived attempts to impose its brand of democracy, and liberal values."
Highlighting regional cooperation, the FM praised the Arab League's "proactive stance and lauded Syria's reintegration into the league." In another nod to regional peace efforts, Lavrov expressed optimism about the ongoing rapprochement between Damascus and Ankara. "Such positive moves strengthen the Astana initiative, pushing for a Syrian solution rooted in the restoration of its full sovereignty," he concluded.
In September, the Minister of Culture and Knowledge Development in the Libyan Government of National Unity (GNU), Mabrouka Toughey, received Ambassador Aganin, in her office
During the meeting, discussions revolved around avenues for cooperation in cultural and artistic fields, aiming to enhance, support, and develop them between the two nations, according to a statement by the GNU Ministry of Culture.
Toughey expressed her gratitude to the Russian Federation for its solidarity and cooperation in offering support and relief after the cyclone disaster that hit several regions in Eastern Libya.
The Russian Ambassador thanked Minister Toughey for the warm reception and handed her an official invitation from the Russian Minister of Culture to participate in the ninth forum of Culture Ministers, as detailed in the statement.