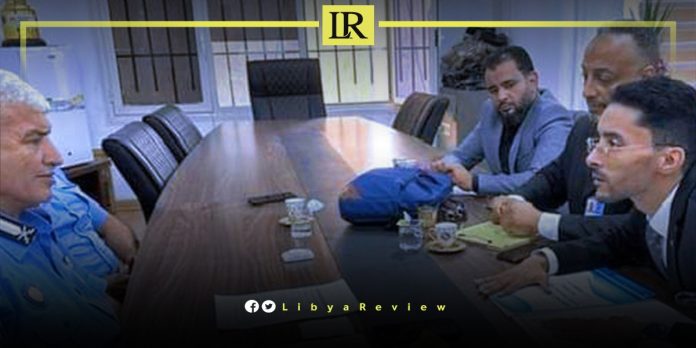 The Chairman of the National Commission of Human Rights in Libya (NCHRL), Ahmed Hamza met with the Head of the Judicial Police Authority, Mustafa Abu Harara, and Deputy Head Abdel-Nasser Ben Yousef.
The meeting reviewed the NCHRL's report on prisoner and detainee conditions, in reformation and rehabilitation institutions overseen by the Judicial Police Authority in 2023.
It aimed to address and resolve issues in various aspects of human rights for inmates. This collaboration seeks to ensure the well-being of prisoners, and enhance these institutions.
Notably, the NCHRL shed light on the grave human rights scenario and the diminishing rule of law in the Maghreb region for the year 2022.
In a statement, the committee stated that Libya, under the Government of National Unity (GNU) headed by Abdel-Hamid Dbaiba, has witnessed a steep decline in its human rights conditions, coupled with a significant undermining of judicial practices.
As per the Fund for Peace's recent data, Libya scored a worrying 8.8 out of 10, placing it 14th on the global list of nations facing such challenges. Adding weight to these findings, Presidential candidate, Suleiman Al-Bayoudi emphasized the pressing need for a change in governance. Commenting on a report by the Libyan Audit Bureau, he stated that "the extent of public funds mismanagement is disgracefully evident."
He further highlighted, "The Dbaiba-led administration's corruption levels have reached unprecedented heights, pushing Libya into a dire economic state. The removal of this government is now both a national necessity and a moral duty."
Among the infractions highlighted in the report, was the Cabinet's failure to establish an approved organizational structure and staff roster.