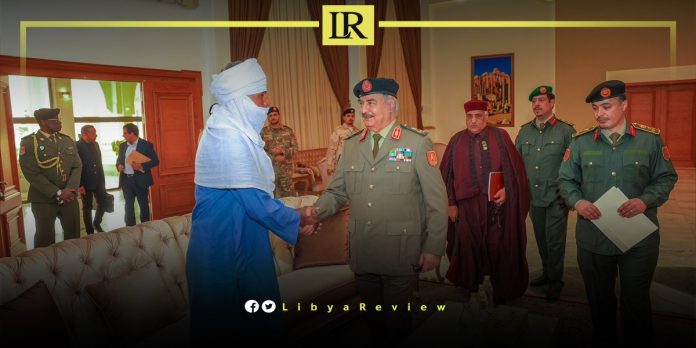 On Monday, the General Commander of the Libyan National Army (LNA) Field Marshal Khalifa Haftar, held a strategic meeting with the leaders of the Tuareg tribes in Benghazi, affirming a unified stance on security and stability in the region.
In a statement, the LNA reported the tribal delegates "expressed appreciation for the LNA's diligent efforts in maintaining security across southern cities, and tackling the challenges of criminal operations and smuggling activities along Libya's vast border zones."
Haftar underscored the vital role that Libyan tribes play in the security of the southern desert and border areas, lauding their support of military operations to protect Libyan sovereignty.
The meeting comes in the wake of General Haftar's interaction with the social coordinator for the Awlad Suleiman tribe, Sheikh Zidan Al-Zadma, at the LNA headquarters.
Haftar reiterated the importance of social components in the country, and praised the contributions of the Awlad Suleiman, along with other tribes in the southern region, towards restoring stability and fostering national reconciliation among Libyans.
This meeting underscores the LNA's strategy to integrate traditional tribal structures into the broader framework of national security and reconciliation efforts, aiming to unify the war-torn country.
Haftar convened a meeting, on Saturday, with the Chiefs of Staff and Directors of various departments under the General Command to assess the operational progress of military units across different specialties, both in urban areas and border regions.
Last month, Haftar conducted a tour of bridge construction sites in Benghazi. Accompanying him were Prime Minister-designate, Osama Hamad, and Reconstruction and Stability Committee Head, Hatem Al-Areibi.
The tour aimed to assess the ongoing construction, and final preparations extending to Benghazi University, to review recent maintenance works.
Hamad, alongside Al-Areibi and other officials, inspected Ajdabiya city, focusing on security, services, and the progress of various service projects.
They inaugurated several projects, prominent among which were road maintenance, opening routes, school, and infrastructure upkeep, and water supply to certain areas. This comes amidst a backdrop of political division in Libya, with Derna city bearing the brunt.
Notably, Haftar hosted a pivotal meeting with the UK's State Minister for the Armed Forces, James Heappey in Benghazi.
The meeting was also attended by the Chargé d'affaires of the British Embassy in Libya, Catherine Wilde, and her accompanying delegation.
In a statement, the LNA reported that the discussions were focused on enhancing Libyan-British cooperation, in the field of counterterrorism. The talks also touched upon the latest political developments and set the stage for the appropriate conditions to conduct the upcoming Presidential and Parliamentary elections in the nation.