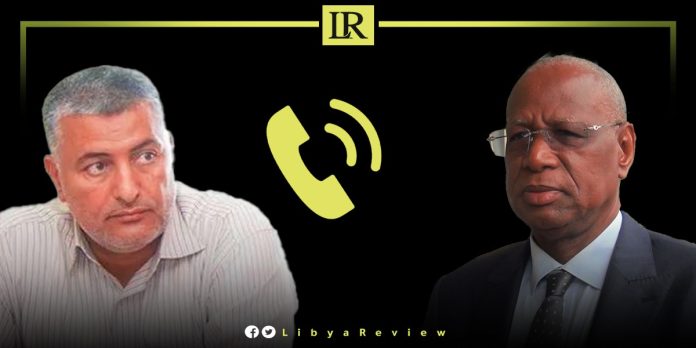 On Monday, the High Council of State (HCS) announced that the UN Special Envoy to Libya, Abdoulaye Bathily is spearheading an initiative to resolve the ongoing political deadlock.
Details of this proposed initiative were shared with the HCS Chairman, Mohamed Takala during a telephone conversation, as confirmed by a statement from the Council on Monday.
The announcement follows a series of unproductive discussions held in Cairo between Takala and Ageela Saleh, the Speaker of the Libyan Parliament. The two had met to discuss the crisis, but only agreed on "continuous consultation to seek a resolution that embodies the will and interests of the Libyan people."
Observers note the political gridlock has been persistent since the Parliament enacted new Presidential and Parliamentary in October. Takala has firmly held onto the outcomes agreed upon by the 6+6 Joint Committee, ratified in Boznika, Morocco, on 3 June, refusing any further amendments.
Addressing the political deadlock, Bathily urged all Libyan stakeholders, including key leaders, to "come together for a binding political agreement that would lay the foundation for a sound electoral process, anchored by a united government to guide the country toward elections."
The political situation in Libya has been fraught with challenges following the 2011 uprising that ousted long-time leader Muammar Gaddafi. The subsequent power vacuum led to a fragmented country, with various factions vying for control. Efforts to stabilize the country have been ongoing, with the United Nations facilitating dialogue between rival factions.
Notably, several political parties have recently raised concerns about the involvement of the United Nations Support Mission in Libya (UNSMIL), in the nation's electoral affairs.
These parties claim that the UNSMIL is "obstructing the electoral process, and violating Libya's sovereignty by interfering in the recently approved electoral laws." This has sparked a discussion on the UN's role in Libya's path towards democratic development, and political stability.
UNSMIL has reviewed the electoral laws, suggesting that the remaining issues need a political settlement through constructive dialogue and goodwill. However, Libyan parties perceive these actions, and the US-backed stance of the Mission as a hindrance to political solutions in Libya.
Disagreements arise from provisions like mandatory second rounds for Presidential elections, and connecting the outcomes of Presidential and Parliamentary elections. Also, the full inclusion of all Libyans, including women and various cultural groups, in a unified government to lead the country to elections is seen as a politicized issue, requiring national settlement.