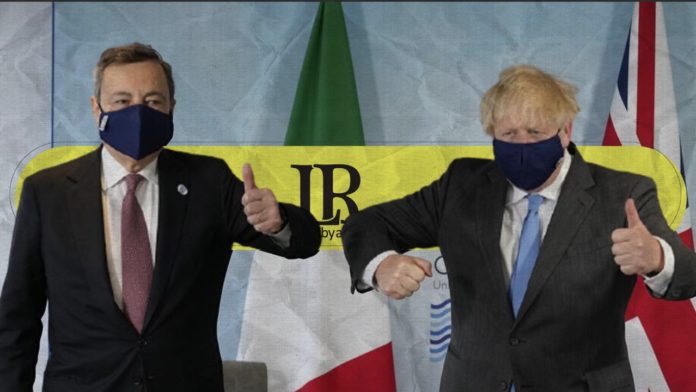 On Saturday, the Italian Prime Minister, Mario Draghi, held a meeting with his British counterpart, Boris Johnson, on the sidelines of the G7 Summit in Cornwall.
During the talks, the two Prime Ministers covered a number of shared international priorities including the importance of supporting a lasting ceasefire in Libya to provide the foundation for a long-term peaceful democratic transition.
Draghi and Johnson also voiced their unwavering support to the current interim executive authority. The authority was approved in March by the House of Representatives (HoR) in Sirte and is tasked with preparing the country for national elections on December 24th of this year.
They also emphasized the need to uphold the commitments made at the Berlin Conference to support United Nations (UN)-led talks to find a political solution to the Libyan crisis.
The leaders also discussed rebuilding back the country in a greener manner, and the importance of ensuring wealthy economies to meet the commitment to mobilize $100bn a year for developing countries to address climate change.
Libya has been facing insecurity and chaos since the fall of the late leader Moammar Gaddafi in 2011, making the North African country a preferred point of departure for thousands of migrants wanting to cross the Mediterranean toward European shores.