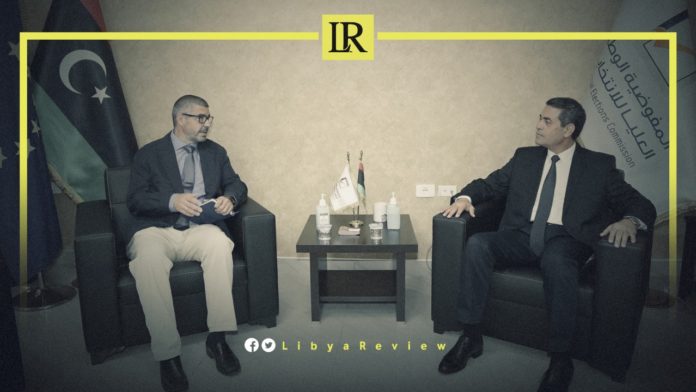 The Head of Libya's High National Elections Commission (HNEC), met with the EU Ambassador to Libya, Sabadell Jose in Tripoli. They discussed holding the upcoming Libyan elections, and reviewed the electoral process scheduled for 24 December.
"The meeting reviewed the preparations for the next stage, after the commission officially received the election law," a statement by HNEC read. It added that the commission completed the final evaluation of its preparations, to be able to proceed with the elections.
The meeting also discussed the technical and advisory support provided by the European Union through the People Project. The project is implemented and supervised by the United Nations Support Mission in Libya (UNSMIL) and the United Nations Development Program (UNDP).
Ambassador Sabadall reiterated the EU's support for the Libyan people, "to cross this stage and move towards a future of peace and stability."
On Sunday, the Embassies of France, Germany, Italy, the United Kingdom, and the United States in Libya, urged all Libyan actors to ensure inclusive, free, and fair parliamentary and presidential elections on 24 December, 2021.
In a joint statement, the embassies said that such elections, as determined in the political roadmap of the Libyan Political Dialogue Forum (LPDF) in Tunis, are an essential step in further stabilising and uniting Libya, and their results should be respected by all.
They added that the steps announced by the Libyan Parliament towards this goal, represent significant steps towards the holding of elections as scheduled.
The four embassies also called on all Libyan actors to recognize that now is the time to engage and finalise the electoral framework, and take into account all the legitimate concerns of the Libyan people.
On Wednesday, Prime Minister of Libya's Government of National Unity (GNU), Abdel-Hamid Dbaiba received a delegation including the Counselor of the US Department of State, Derek Chollet, and US Ambassador to Libya, Richard Norland.
Chollet confirmed US support for the GNU, and its preparations for the December elections. "It's a pleasure to visit Tripoli along with U.S. Ambassador to Libya Richard Norland. We met PM Dabaiba to reaffirm US support for the GNU's work to stabilize #Libya politically and economically, and to prepare for December's elections," the US Embassy in Tripoli tweeted.
Read more here