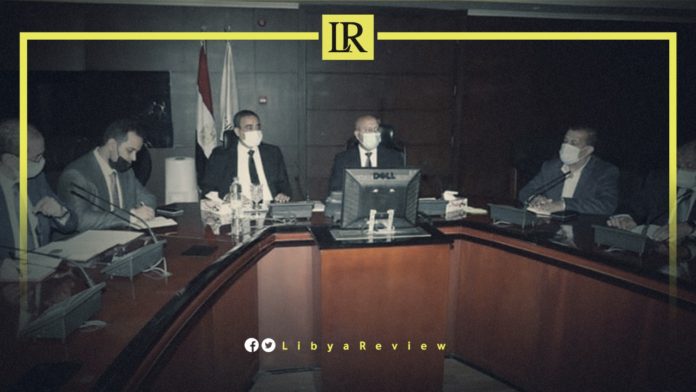 On Wednesday, Libyan Minister of Transport, Mohamed Al-Shoubi met with his Egyptian counterpart, Kamel Al-Wazir in Cairo. The two sides discussed cooperation in the field of transportation.
In a statement, the Egyptian Transportation Ministry stated that a number of ministry officials and infrastructure company heads attended the meeting "At the beginning of the meeting, Al-Wazir confirmed the depth of the relations between the two countries.
He affirmed the readiness of the Egyptian Ministry of Transport to cooperate with the brothers in Libya in all fields of transport.
Al-Wazir added that the ministry will work to expand the entry of Egyptian companies in the implementation of infrastructure projects in Libya," the statement read.
Al-Shoubi confirmed Libya's keenness to cooperate with Egypt in implementing a large number of road, bridge and transportation projects in Libya. The two sides also discussed cooperation in Transportation, land and dry ports, and developing the Egyptian Salloum and Libyan Musaid ports.
During the meeting, they agreed to quickly finalise the procedures for signing the land transportation agreement.
The meeting also discussed the need to update the maritime transport agreement signed between the two countries in 1992. "The ministry will supervise all these projects. Egypt will support the Libyan side with a number of distinguished specialised engineers in this field," Al-Wazir stated.
On Monday, Libya's Minister of Economy and Trade, Mohamed Al-Hawij headed a ministerial delegation to Cairo.
"This comes in the context of preparations for the joint Libyan-Egyptian Higher Committee meeting on Thursday. This is to be headed by Prime Minister Abdel-Hamid Dbaiba and his Egyptian counterpart Mustafa Madbouly," a statement by the ministry read.
"The meetings come as part of the framework of strengthening relations and raising the level of trade between the two countries. The meetings also aim to conclude agreements in a number of areas of common interest," the statement added.
Read more here