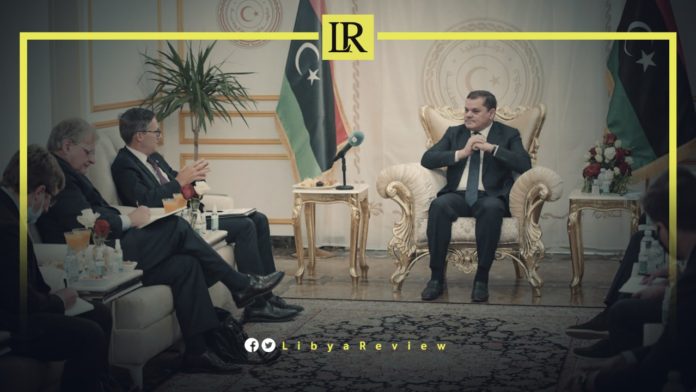 On Wednesday, Prime Minister of Libya's Government of National Unity (GNU), Abdel-Hamid Dbaiba received a delegation including the Counselor of the US Department of State, Derek Chollet, and US Ambassador to Libya, Richard Norland.
Chollet confirmed US support for the GNU, and its preparations for the December elections. "It's a pleasure to visit Tripoli along with U.S. Ambassador to Libya Richard Norland. We met PM Dabaiba to reaffirm US support for the GNU's work to stabilize #Libya politically and economically, and to prepare for December's elections," the US Embassy in Tripoli tweeted.
Dbaiba stressed that his government attaches the utmost importance to the success of the upcoming elections. He pointed out the GNU has allocated the necessary financial resources to the High National Elections Commission (HNEC), and was working to ensure security and stability across the country.
Moreover, Counselor Chollet met with the Vice-President's of the Presidential Council (PC), Musa Al-Koni and Abdullah Lafi. "I expressed our support for the work of the PC towards national reconciliation," Chollet said.
"In today's meeting, Vice-Presidents Koni and Lafi shared their commitment to holding presidential and parliamentary elections as scheduled on December 24," Counselor Chollet noted.
He praised the PC's important work, "which seeks to re-unite Libya's institutions and fully integrate all regions of the country."
Previously the US welcomed the results of the consultative meeting by the foreign ministers of Libya's neighbours, which was held in Algeria, as an important step to support regional stability.
The US Embassy in Libya, reiterated the necessity of holding the presidential and parliamentary elections on schedule, and the need for foreign forces to withdraw from the country.