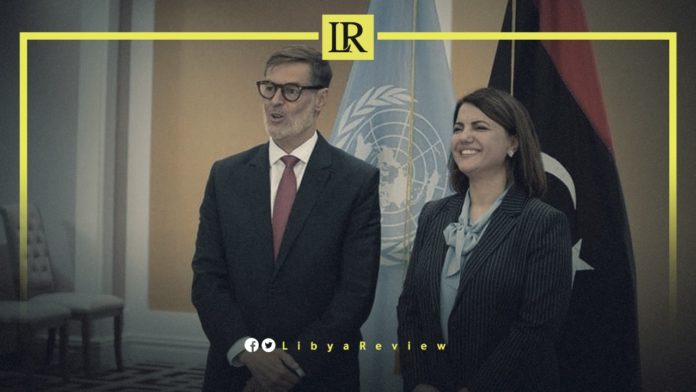 On Wednesday, Libyan Foreign Minister, Najla Al-Mangoush held a meeting with her Venezuela counterpart, Felix Gonzalez. The two discussed ways to strengthen bilateral relations to serve their peoples.
Al-Mangoush reviewed ways to activate the joint cooperation agreements between the two countries. She stressed the importance of relations with Venezuela, as it was the first country in Latin America to establish diplomatic relations with Libya.
In turn, Gonzalez confirmed his support for stability and the importance of its consolidation in Libya. He said that they would reopen the embassy in Tripoli, and called for the reopening of the Libyan Embassy in Caracas.
On Monday, Croatia's Foreign Minister, Gordan Radman met with his Libyan counterpart, Najla Al-Mangoush on the sidelines of the 76th session of the United Nations General Assembly in New York City.
The FM expressed Zagreb's desire to participate in Libya's reconstruction, and pointed out the importance of activating bilateral cooperation agreements.
Radman renewed Croatia's support for the efforts by Libya's Presidential Council, and the Government of National Unity (GNU) to establish security and stability in the North-African country. He also expressed his aspiration to visit Libya in the near future, and extended an invitation to Al-Mangoush to visit Zagreb.
In turn, Minister Al-Mangoush showed her country's appreciation of Croatia's position in support of the security and stability of Libya. She affirmed that Libya is keen to enhance cooperation with Croatia.
In turn, Al-Mangoush praised Croatia's position in support of the security and stability of Libya, and affirmed Libya's keenness to enhance cooperation with Croatia.
Minister of Economy in Libya's Government of National Unity (GNU), Mohamed Al-Hweij stated that the reconstruction of the country would cost $200 billion dollars, based on studies prepared by the World Bank.
In an interview with the Al-Hurra TV channel on Sunday, Al-Hweij explained that Libya has held numerous forums with businessmen from Egypt, Italy, Turkey, Tunisia, Algeria, and France.
He pointed out that the country has also signed a partnership agreement with the United States in the energy sector. This is to boost production to 3 million barrels of oil per day in the coming years.
Italy, Egypt, and Turkey are tipped to be awarded the lion's share of reconstruction deals, according to AFP.