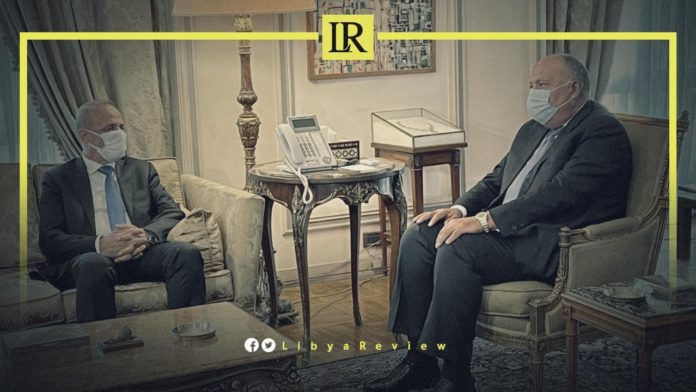 On Saturday, Egypt Foreign Minister, Sameh Shoukry, held a meeting with the Deputy Head of the Libyan Presidential Council, Abdullah Al-Lafi, and his accompanying delegation, who are currently visiting Egypt.
In a statement, the Egypt Foreign Ministry said that Shoukry reiterated Egypt's full support for neighbouring Libya as an independent and sovereign state.
He also highlighted the country's political leadership's directives to harness all Egyptian capabilities to help the Libyan people to overcome the current crises facing their nation.
The meeting came as part of the supportive role played by Egypt towards Libya at this critical time to restore the country's stability, Spokesman for the Foreign Ministry, Ahmed Hafez, said.
Shoukry also stressed Egypt's support for the steady steps that Libya is witnessing to implement the political roadmap approved by the Libyans. This will lead to the holding of the presidential and parliamentary elections on December 24th, as a pivotal step towards achieving the desired stability in Libya.
The Egyptian top diplomat praised the efforts of the House of Representatives (HoR) in issuing the Presidential Elections Law, and its endeavors to approve the Parliamentary Elections Law in coordination with the concerned Libyan parties.
In addition, he asserted the importance of withdrawing all foreign forces and mercenaries from Libyan territory, which prevents the country from restoring its full sovereignty, as well as its negative repercussions on the security situation of Libya's neighboring countries.
Shoukry also highlighted the importance of urging the international community to assume its role in bringing the parties seeking to circumvent Resolution no. 2570 and the outcomes of the Berlin 2 conference regarding the complete withdrawal of all foreign forces and mercenaries.
He also stressed the need to provide full support for the 5 + 5 Joint Military Commission (JMC) in its mission regarding the removal of all forms of foreign presence from Libya.
In turn, Al-Lafi expressed his country's appreciation of Egypt's supportive role for Libya and its efforts to stabilize it. He praised the positive bilateral relations between the two countries based on the extended historical and popular bonds that unite them.