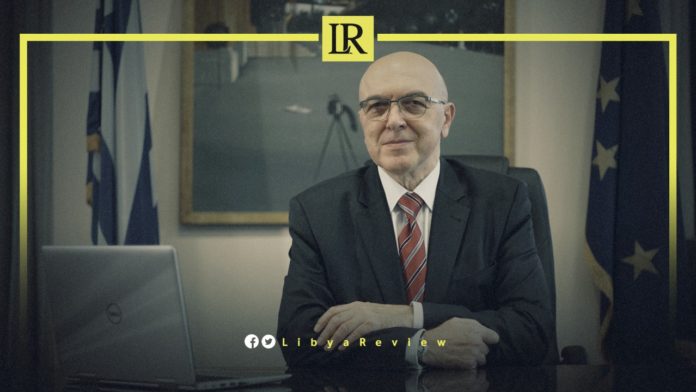 On Tuesday, the Deputy Greek Foreign Minister for Economic Diplomacy, Kostas Fragogiannis, said that Greece is eyeing business in Libya. This is especially after the inauguration of the Consulate General of Greece in Benghazi, and the reopening of the Greek Embassy in Tripoli.
In press statements, the Greek diplomat stated that they are discussing the return of Greek companies, which left the country during the 2011 civil war. Outstanding debts owed to these companies, mostly in the transport and health sectors, are estimated at €78 million.
Greece, Italy, and Turkey are the three main players vying for influence in the country. Greek firms are looking for opportunities in the energy, transport, healthcare, pharmaceuticals, telecommunications, and construction sector.
Fragogiannis reiterated Greece's support for the withdrawal of foreign forces from Libya, and Athens' rejection of the Turkish-Libyan maritime border agreement. Libyan officials have made it clear that the Tripoli-based Government of National Unity (GNU) does not intend to upset ties with Turkey.
The Deputy FM stressed that the repayment of Libya's debts will motivate businessmen who wish to invest in Libya, to move forward.
These moves build on Greek Foreign Minister, Nikos Dendias's visit to Libya in August. Dendias vowed that Greece "is back" in Libya. While there, he met with government officials, as well as with representatives of the Greek community.
On Sunday, the Libyan Investment Authority (LIA) signed a memorandum of understanding with Enterprise Greece, the official investment agency of Greece.
The LIA said in a statement that this aims to open new horizons of cooperation with international organizations and institutions. This is to contribute in assisting international investors to enter the Libyan market.
The statement pointed out that the agreement will create new investment opportunities for the two parties, especially in renewable energy and exchange of experiences. This is in addition to empowering and training Libyan nationals.
"The MoU also aims to facilitate and enable the Libyan investments in European and international markets. As well as encourage investment opportunities inside and outside Libya and to benefit from global expertise," the LIA explained.