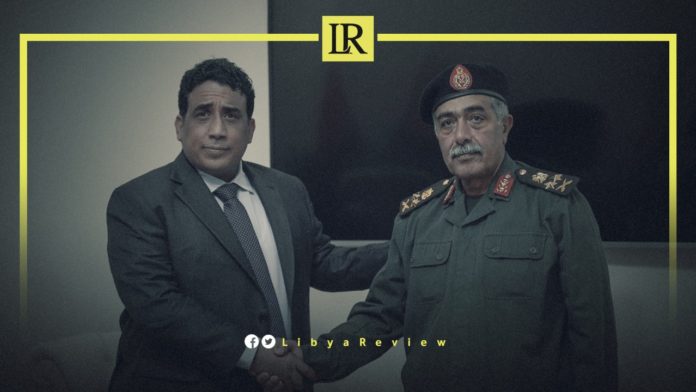 On Saturday, the Head of the Libyan Presidential Council, Mohamed Al-Mnifi, held a meeting with the Commander-in-Chief-designate of the Libyan National Army (LNA), Lieutenant-General Abdel Razek Al-Nazori, in Tobruk City.
According to the political agreement between the Libyan parties, Al-Mnifi is the Supreme Commander of the Libyan army.
Al-Mnifi and Al-Nazouri discussed the efforts of unifying the army as a crucial step to conduct the upcoming national elections and achieving stability and safety in the country.
According to the Media Office of the Presidential Council, the meeting dealt with the important steps accomplished by 5+5 Joint Military Commission (JMC) in establishing the ceasefire, opening the coastal road, and releasing detainees from warring parties.
Sources told Al-Ittihad Emirati news that Al-Mnifi and Al-Nazouri discussed the withdrawal of foreign forces and mercenaries from the country as soon as possible. They also consulted about the best mechanism to remove those forces from Libya before the December presidential elections.
Al-Mnifi also promised to solve the problem of cutting the salaries of Libyan army officers, eastern the country.
On October 8th, the JMC signed a comprehensive Action Plan for the withdrawal of foreign forces from Libya. Such a plan will be the cornerstone for the gradual, balanced, and sequenced process of the withdrawal of mercenaries, foreign fighters and foreign forces from Libyan territory.
The plan includes four main points, the first of which is the withdrawal of foreign forces to agreed points in Benghazi and Tripoli.
According to Sky News Arabia sources, the implementation of the plan starts in November.
The second step included deploying United Nations (UN)-observers to work on implementing the foreign forces' withdrawal in a gradual and balanced manner. "Libya has already requested the UN and the Security Council to deploy the observers," sources revealed.
The third step included provided that the observers will monitor the real numbers of foreign forces and mercenaries from Libya and documenting them accurately.
"Finally, the mercenaries are deported from Libya in successive batches according to a time map, which estimates said it will end by 2023," sources concluded.