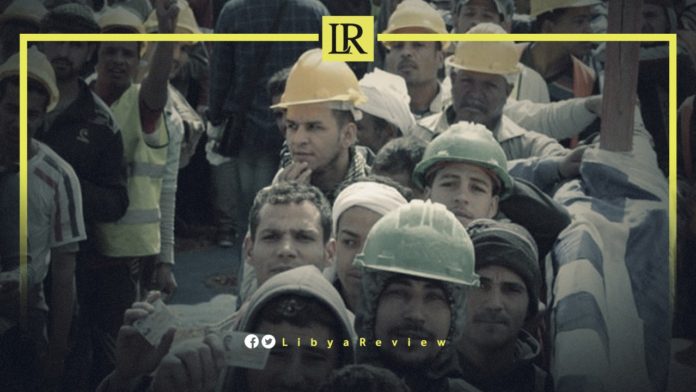 Magdy El-Badawy, the Vice-President of the General Federation of Egypt Trade Unions, confirmed that his country's government is working on setting mechanisms and procedures for transporting Egyptian workers to Libya.
In statements to the Egypt "Youm7" news website, El-Badawy explained that these mechanisms and procedures preserve the rights of Egyptian workers in Libya.
He noted that the government in Egypt is committed not to deporting any worker before the completion of an electronic system.
El-Badawy added that the electronic system links the Egypt Ministry of Manpower and its counterpart to an official body in Libya. It aims to determine the Libyan needs of the required professional specialisations and to find guarantees that companies participating in projects and Egyptian labor will receive their dues.
El-Badawy added that the committees concerned with the movement of Egyptian workers are still studying the development of specific mechanisms to protect and secure employment against risks. They are working on facilitating the transfer of funds, providing social security and health insurance, and the possibility of enrolling workers' families.
El-Badawy concluded by referring to a study of the work of an insurance policy for each worker to ensure that he does not encounter any problems with the employer or the company with which he will work.
The Libyan Minister of Manpower Ali Al-Abad said that Libya is in need of 1 million Egyptian workers.
"The Egyptian workers are highly trained and demanded in Libya especially with its plans of development projects; they are also socially accepted," Al-Abad said in an interview published in Al-Ahram Daily newspaper on Saturday, following the meetings of the Egyptian-Libyan joint higher committee on Thursday.
The joint committee headed by Egyptian Prime Minister Mostafa Madbouly and his Libyan counterpart interim Prime Minister Abdelhmid Al-Dbaiba signed 14 memoranda of understanding (MoUs) and six executive agreements in several fields including mega projects in Libya.
According to Minister Al-Abad, the agreement is valued at 19 billion Libyan dinars (around $4.2 billion) and they come in the framework of the Libyan government's "Return of Life" development plan in the North African country which aims to develop infrastructure, roads and housing projects.