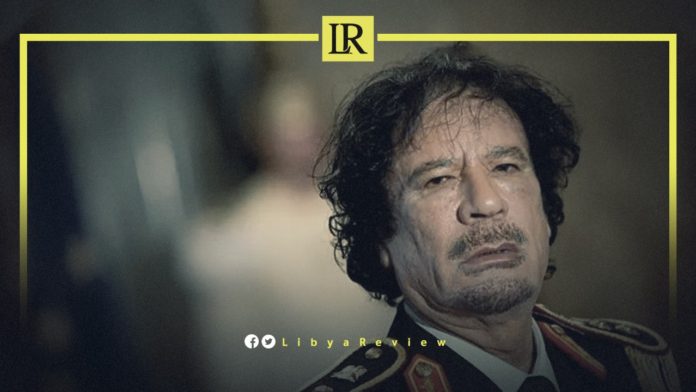 Cousin of the late Libyan leader Moammar Gaddafi, Ahmed Gaddaf Al-Dam, said that the body of Gaddafi , who was killed 10 years ago will be handed over to his family, and a funeral will be held for him.
Ahmed Gaddaf Al-Dam did not mention a specific date for receiving the remains of his cousin.
"Certainly, the remains of the leader and his companions will be handed over, and a funeral worthy of them will be held, and their historical consideration will be restored," Gaddafi's cousin told Russia's Sputnik agency on Wednesday.
"The mask fell out, and our people discovered that what NATO did in 2011 was not for the sake of the Libyans, but to kill a leader who represented a mountain of pride and a dream for an entire continent," he added.
He noted that Libyans feel nothing but shame and nostalgia for the Gaddafi era after a decade of his killing.
Gaddafi's cousin added that the late leader's supporters would return to the political scene significantly if elections were held.
It is noteworthy that Gaddaf Al-Dam served as the former coordinator of Egyptian-Libyan relations, and was a special envoy of Gaddafi. He has lived in Egypt since 2011.
On October 20th, 2011, NATO forces targeted a site where Gaddafi was present. The forces of the Libyan Transitional Council (LTC) found Gaddafi, and a video clip showed fighters beating and killing him, after nearly 42 years of his rule of the country.
In September, a Libyan militia leader said he is ready to reveal the location of the tomb of the late Libyan leader Moammar Gaddafi, who was buried in it nearly 10 years ago after his arrest and killing, and no one has known of it until now.
This came in conjunction with the celebration of the supporters of the former regime's 52nd anniversary of the 1st of September Revolution, amid reports that Saif Al-Islam Gaddafi will run in the upcoming presidential elections.
Salah Badi, the leader of the so-called "Al-Samoud Brigade," one of the participants in Gaddafi's burial, said that he is ready to reveal the place where Gaddafi's body was buried after he was killed on October 20th, 2011, following a bloody battle in his hometown of Sirte.
Badi is internationally sanctioned and during an interview via Club House he said that "if there is an agreement with Libyan dignitaries and cities, he is ready to reveal the location of Gaddafi's tomb."
He noted that he did not bury Gaddafi alone, but that there was another group who participated in that, including Sheikh Khaled Tantoush.
Despite the passage of 10 years since the killing of Gaddafi, some Libyan cities, especially in the South of Libya, still express their grief at his loss. Gaddafi supporters demand to know the location of the cemetery in which his body and his son Al-Mu'tasim Allah were buried.