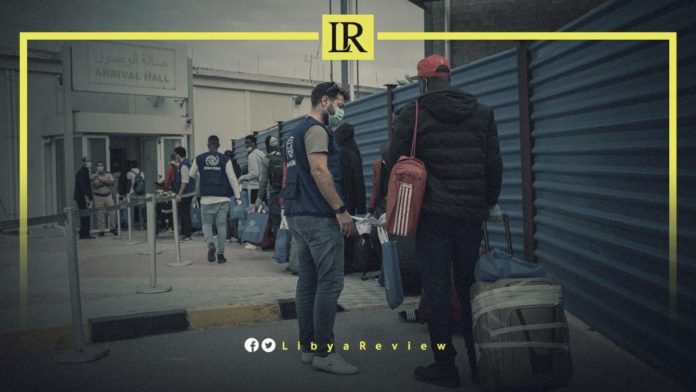 The Sudanese authorities announced that the International Organization for Migration (IOM) will sponsor the deportation of more than 2,200 Sudanese nationals in Libya, before the end of 2021.
This came in the statements made by the Sudanese Minister of Foreign Affairs, Mariam al-Sadiq al-Mahdi, during a visit to Sudanese refugees and migrants wishing to return voluntarily to their country, at the headquarters of the Khartoum embassy in Tripoli on Thursday.
On Friday, the Sudan News Agency (SUNA) reported that "the IOM will ensure the return of more than 2,200 Sudanese citizens from Libya, before the end of this year 2021."
On her Facebook account, Al-Mahdi said that, "the Sudanese embassy is currently accommodating refugees and migrants temporarily until their return to Khartoum, through voluntary trips organized by the IOM in coordination with the Sudanese authorities."
There are no official statistics for the number of Sudanese residing in Libya.
On Thursday, the Sudanese Foreign Minister participated in the work of the international conference in the capital, Tripoli, on promoting stability and ending the conflict in Libya.
On Thursday, the IOM announced that it resumed humanitarian flights from Libya, and has safely repatriated 127 stranded Gambian migrants.
The Gambians were among thousands waiting to go home through IOM's Voluntary Humanitarian Return (VHR) programme.
Thursday's flight successfully returned the 117 men, 5 women, and 5 children from Libya's Misrata airport to the Gambian capital of Banjul.
The flight marks the first since the 8th of August, when all humanitarian flights were suspended by the Libyan Ministry of Interior.
"More than 10,000 migrants in Libya have requested IOM's VHR assistance and have been waiting for months to return home," said Federico Soda, IOM Libya Chief.
"It is extremely significant that the government has lifted the suspension because IOM's VHR programme is critical for migrants who want to leave Libya and return home in a safe, legal, and dignified manner and rebuild their lives," he added.
The return process is also supported by the countries of origin, with whom the pre-departure work in Libya is closely coordinated.