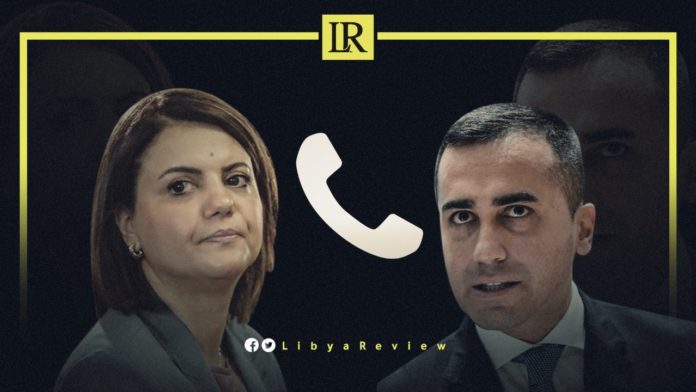 On Saturday, the Libyan Minister of Foreign Affairs and International Cooperation, Najla Al-Mangoush, conducted a telephone conversation with her Italian counterpart, Luigi Di Maio, according to Italian authorities.
During the talks, the two top diplomats discussed ways of enhancing bilateral cooperation between Italy and Libya. They also reviewed the outcomes of the Stabilization Conference on in Libya, which was held on October 21st, with a view to resolving the country's thorniest issues ahead of general elections planned for December.
Al-Mangoush and Di Maio stressed that the success of the transition process towards democracy is mainly based on reaching a permanent and comprehensive consensus among all Libyan parties.
"Libyan ownership is key for the success of the transition," the Italian Ministry said in a brief tweet.
On Thursday, Libya's Tripoli hosted the Libya Stabilization Conference with the participation of 31 countries and international organizations, with the aim of achieving stability in Libya.
Libya has been suffering insecurity and chaos since the fall of the late leader Moammar Gaddafi's regime in 2011.
The United Nations (UN)-sponsored Libyan Political Dialogue Forum (LPDF) in February selected a new political authority of a unity government and a Presidential Council, ending years of political division in the country.
The new authority's main task is to prepare for the upcoming elections, as endorsed by the LPDF.
Notably, the embassies of France, Germany, Italy, the United Kingdom, and the United States in Libya on Monday commended the "successful" Libya Stabilization Conference. It allowed senior Officials from countries and organizations around the globe to converge on Tripoli and demonstrate their support for the sovereignty, independence, territorial integrity, and national unity of Libya.
In October, Libyan Foreign Minister, Najlaa Al-Mangoush, confirmed that some foreign fighters have left the country as the interim government seeks to mobilize international support to withdraw the remaining forces.
"The reports are correct. There is a very modest start," Najla Mangoush said at a news conference in Kuwait, according to Reuters.