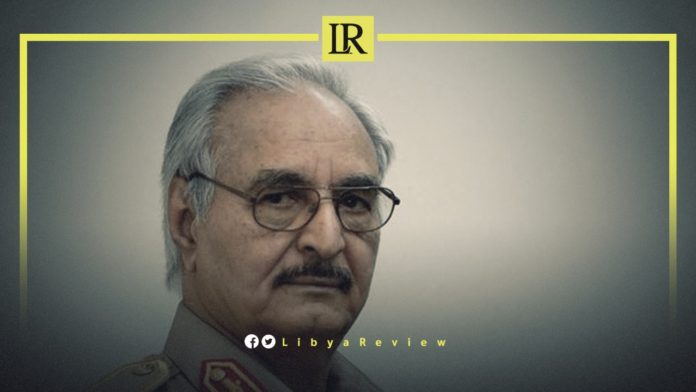 On Thursday, Leonie M. Brinkema, US District Judge issued a decision to suspend the court's cases against Khalifa Haftar, until Libya's upcoming election have concluded.
The reason for this suspension or temporary suspension according to the judicial decision published by the Federal Court of Eastern Virginia, is what the judge described as "political interference by official Libyan political parties." In addition to the failure of the lawyer for the victims' families in the case related to the families of Al-Suwaid and Al-Kurshini, Mr. Kevin Carroll to communicate with the judge by legal means.
In a document commenting on the decision, the judge said that due to the recent interference in judicial affairs, the political developments in the country, and the intention of Haftar to run in the Presidential elections, she decided to freeze all three cases until the end of the elections.
The court issued an order permitting the defendants to ask deponents who they spoke with to prepare for the deposition, but prohibited them from asking about the location of any such person. On 2 November 2021, the court received an ex parte email that was presumably in response to that order.
Libya's Government of National Unity's (GNU) Special Envoy to the USA sent an email to Judge Brinkema's and Judge Nachmanoffs Chambers and an individual law clerk, saying: "It has come to our attention that a request has been made by the defendant's attorneys to reveal the identity of one of the interlocutors who served as an agent for the plaintiff's attorney."
"We respectfully request that the court refrains from requesting that the plaintiffs identify by name. These individuals, face credible threats to their lives and the lives of their relatives who currently reside in areas where they could be subjected to direct danger from the defendant's associates," the email stated.
The next day, Kevin Carroll, the lead attorney for the plaintiffs in Al-Suwaid v. Hafter called on the chambers to follow up on the email.
Brinkema said that the email and the phone call are not only improper, but extremely troubling. Both are ex parte communications asking the Court to make a ruling, a request which should only be made by a written motion filed on the public record. She stated that it is particularly disconcerting that the email was sent to the individual law clerk.
"In this context, it is extremely concerning that counsel for one of the plaintiffs has communicated with a representative of the interim government about this litigation and that the government representative has asked this court to rule against the defendant. In fact, the GNU is not the only Libyan political entity to intercede in this litigation," the statement read.
"Accordingly, it is hereby ORDERED that all further conduct in these actions be and is STAYED until Libya's upcoming election have concluded, and the court orders a lift of the stay," Brinkema said.