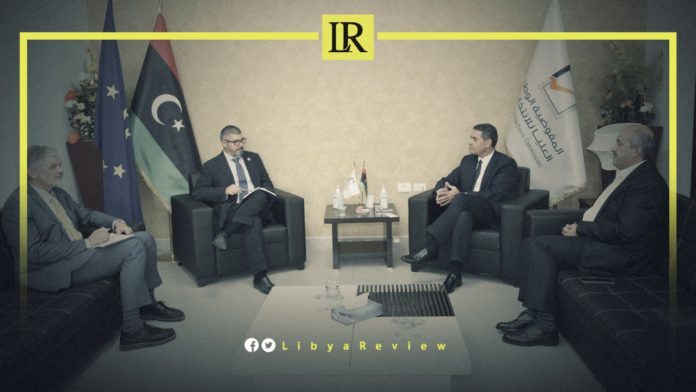 Head of Libya's High National Elections Commission (HNEC), Emad Al-Din Al-Sayeh received the Ambassador of the European Union (EU) to Libya, Jose Sabadell and his accompanying delegation on Monday.
The two discussed the latest developments in the electoral process scheduled for 24 December, most notably the start of the implementation of the Presidential and Parliamentary electoral processes and distribution of voter cards.
"The visit comes within the framework of the international community's support for the democratic process in Libya," HNEC said in a statement.
Sabadell praised the efforts made by HNEC, affirming that EU support for these efforts will continue in order to complete the elections in Libya.
"My meeting with Al-Sayeh focused on real ongoing progress towards elections, and the strong support of the Libyan people and international community," Sabadell tweeted on Tuesday.
"Elections are the only way out of the current crisis," the EU official added.
Last week, HNEC announced the opening of the registration for the elections on Monday, and the beginning of the voter card distribution process.
Al-Sayeh announced that the deadline for applications for the Presidential election was 22 November, and 7 December for the Parliamentary elections.
"The goal of the elections is to unify state institutions, and the basic guarantees for it are that HNEC is an independent and impartial body that is not subject to any political party," he told Russia's Sputnik news agency.
He stressed that the commission is "a technical body" specialized in implementing the electoral laws referred to it by the legislative authority, represented by the Libyan Parliament.
Regarding the mechanism by which the elections will be monitored, he said that "local and international organizations are invited to observe the elections scheduled for 24 December this year."
Notably, the Libyan Parliament approved a law for Parliamentary elections to take place a month after the planned Presidential elections.