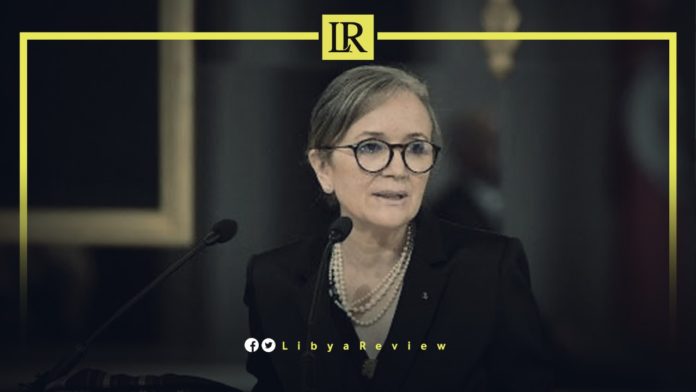 On Saturday, the Tunisian Prime Minister, Najla Boden, called on the international community to continue supporting the upcoming presidential and legislative elections in Libya. She stressed the need to provide "conditions for success" for those elections.
According to the Tunisian government's Facebook page, Bouden said that the Paris Conference represents "a new station in the context of international efforts to complete the course of the political and security process."
She indicated Tunisia's keenness to "pave the political path to a comprehensive reconciliation between all political parties away from any external influences."
She noted the Tunisian continued support for Libyans "in all the options they consider to restore their country's health and preserve its security and stability within the framework of territorial integrity and national sovereignty."
Boden underscored the need to "observe objective considerations related to the peculiarities of the Libyan scene and its interaction in the context of its regional and international context and its developments."
She stressed the importance of the concomitant political, military and security tracks, including the implementation of programs for dismantling, disarming, disbanding militias, and withdrawing foreign fighters and mercenaries. This is a guarantee for establishing the foundations of security in Libya and the region.
She considered that "the security and stability of Libya is a collective and joint responsibility that must be undertaken by providing all aspects of support to the Libyans in their political path."
The Tunisian PM added that this will enable Libyans to devote themselves to the reconstruction of their country and the advancement of their economy until the country regains its regional position as an economic and financial pole. This would help regional economic integration.
On Friday, French President, Emmanuel Macron said that the Paris Conference reaffirmed his country's support for the political track in Libya, stressing the need for elections to be held on time without delay.
Macron said that the attendance of Libya's neighbouring countries during the conference is "important," adding that the international community showed unity over the Libyan issue.
He called on the Libyan authorities to find an inclusive path for the participation of all parties in the upcoming elections that will take place on December 24th.
"The Libyan transition must be completed. The elections must take place in the best possible conditions," said Macron, adding that the parties involved have committed to recognise the results, whatever they are.