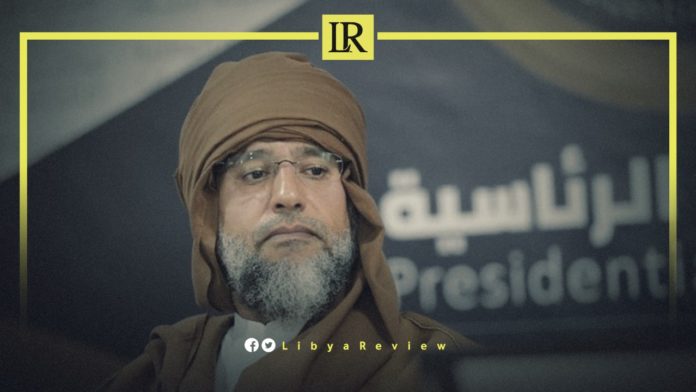 A group of armed militias in the western town of Zawiya announced their rejection of the candidacy of late Libyan leader Muammar Gaddafi's son Saif Al-Islam, threatening a return to civil war.
Earlier today, the High National Elections Commission (HNEC) announced that Saif Al-Islam submitted his candidacy for the Presidential elections in the southern town of Sebha, 650km south of Tripoli.
On Sunday evening, the militias issued a statement threatening to shut polling stations down if the elections proceeded with the current laws.
Additionally, the militias warned the international community that these elections "will bring Libya back to square one and will drag the country into another civil war."
This comes in conjunction with militias from Zintan, who held a military parade with heavy weapons, to express their rejection of Gaddafi's application.
In a video shared by an election official, Saif Al-Islam addressed the camera, saying that "God will decide the right path for the country's future."
The 49-year old, who earned a PhD from the London School of Economics, wore a traditional Libyan robe, turban, and spectacles. It was his first public appearance in almost five years. He was seen as the reformist face of the Gaddafi regime before the 2011 uprising. He was arrested in November 2011, and released in June 2017 after more than five years of detention.
This July, he told The New York Times in an exclusive interview that he was considering a run for the country's top office. His candidacy is likely to stir controversy across the already divided country.
Last month, Chairman of HNEC, Emad Al-Din Al-Sayeh, said Saif Al-Islam was eligible to run for the upcoming Presidential elections. In a discussion session via Clubhouse, Al-Sayeh noted that the law issued by the Libyan Parliament does not prevent his candidacy.