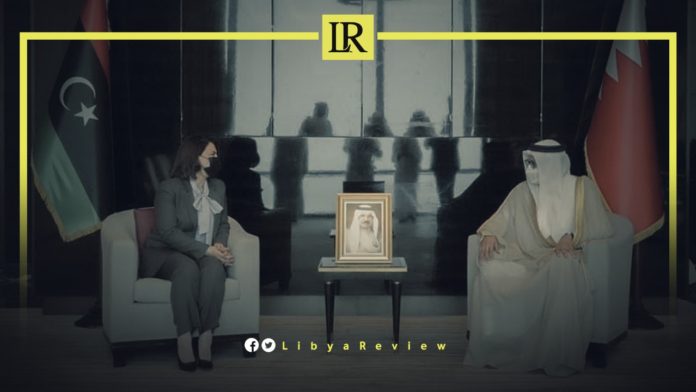 On Friday, Libyan Minister of Foreign Affairs, Najla Al-Mangoush met her Bahraini counterpart, Abdullatif bin Rashid Al Zayani in Manama. They discussed the latest developments in Libya, and the ongoing efforts to achieve security and stability.
This comes on the sidelines of Al-Mangoush's participation in the seventeenth session of the Manama Dialogue Conference.
During the meeting, they discussed "the strong brotherly relations between Libya and the Kingdom of Bahrain." As well as the development, growth, and strengthening of bilateral cooperation and coordination.
The Bahraini Foreign Ministry stated that the two countries aspire to "develop these relations to broader levels to achieve common interests and goals." They also discussed the latest developments in Libya, and the efforts being made to achieve security and stability.
The meeting was attended by the Undersecretary of the Bahraini Ministry of Foreign Affairs for Political Affairs, Abdulla bin Ahmed bin Abdulla Al Khalifa, and the Director-General of the Ministry of Foreign Affairs. Ahmed Muhammad Al-Tarifi from the Arab Affairs Sector also attended the meeting.
Last month, the King of Bahrain, Hamad bin Isa Al-Khalifa held a meeting with Al-Mangoush in Manama.
The Libyan FM expressed her thanks and appreciation for Bahrain's support for Libya's stability. She also praised the "strong brotherly relations between the two countries, and the mutual keenness to strengthen and develop them in all fields for the benefit of our two peoples."
In turn, the King affirmed Bahrain's "unwavering support for the unremitting efforts and endeavours of the Libyan state to lay the foundations for security, stability, and peace in all parts of Libya."
He also stressed the importance of withdrawing all foreign forces and mercenaries to preserve the country's sovereignty, independence, and territorial integrity. As well as highlighting the importance of holding the 24 December elections.