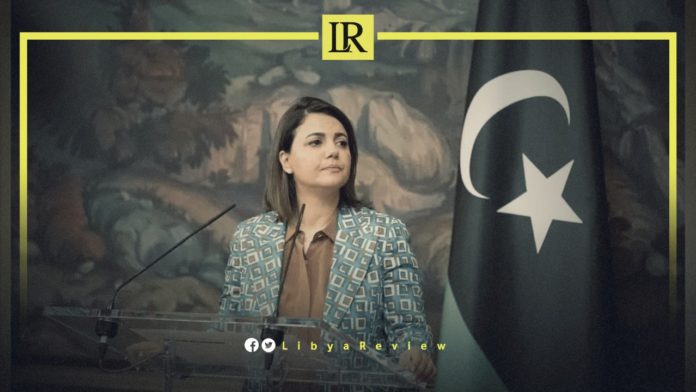 On Saturday, the Libyan Foreign Minister, Najla Al-Mangoush, said that her country has been suffering from foreign interference.
During her speech at the 17th Manama Dialogue in Bahrain, Al-Mangoush stressed that peace building needs change at all levels.
The Libyan Minister said that, "if the citizen does not feel equality, he will seek to achieve himself away from the laws of his country."
Organized by the British think tank, International Institute for Strategic Studies (IISS), the Manama Dialogue is an annual international diplomatic and security summit held to discuss the Middle East's challenges.
The summit, held between the 19th to 21st of November, gathers Ministers, experts, and key officials and figures.
United States (US) Defence Secretary, Lloyd Austin, US Special Presidential Envoy for the Global Coalition to Defeat ISIS, Brett McGurk, and United Kingdom (UK) National Security Adviser, Stephen Lovegrove, are attending the summit.
Attendees also include Secretary-General of the Gulf Cooperation Council (GCC), Nayef Al-Hajraf; Saudi Foreign Minister, Prince Faisal bin Farhan Al Saud; Malaysia's Minister of Defence, Dato Seri Hishammuddin Tun Hussein; Egyptian Foreign Minister, Sameh Shoukry; Iraqi Foreign Minister, Fuad Hussein, and other key officials.
The Libyan top diplomat said, "my country is going through difficult times, stressing that choosing politicians who do not represent the people at the current stage will deepen our crisis."
"We should not be like ostriches with your heads in the dirt in order to escape from facing crises," she added.
Libya is set to hold its Presidential elections on the 24th of December, and Parliamentary elections the following month. The international community has reiterated its support for the expected vote, and stressed the need to expel all foreign forces from the country as soon as possible.
The long-awaited vote still faces challenges, including unresolved issues over laws governing the elections, and occasional infighting among armed groups. Other obstacles include the deep rift that remains between the country's east and west, which has been split for years by the war, and the presence of thousands of foreign fighters and troops.