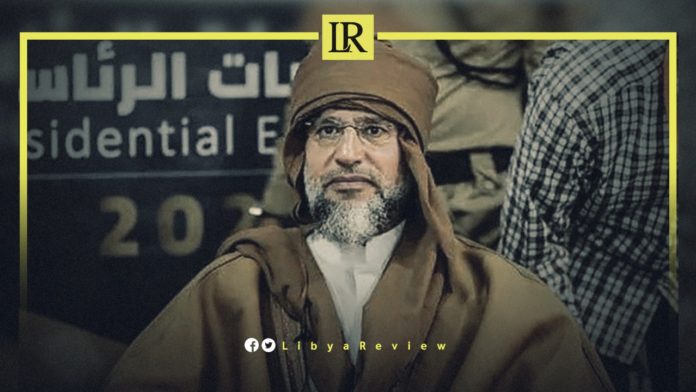 On Saturday, the candidate for the presidential elections, Saif Al-Islam Gaddafi, renewed a call on Libyans to receive their electoral cards.
In a post on his Facebook account, Gaddafi added that, "in order for Libya to restore its national sovereignty and free will, preserve its unity, and move towards building and making up for its losses, hurry up to receive your electoral cards and do not miss the opportunity."
Last Wednesday, Saif Al-Islam Gaddafi, son of long-time leader Moammar Gaddafi, called on citizens to turn up to the elections "with responsibility necessitated by the gravity of the stage." He urged them to head to the offices of the High National Election Commission (HNEC) to receive their electoral cards, to be able to participate in the upcoming elections.
In a speech addressed to the Libyan people, he said: "Libya stands at the gates of a historic station, and in front of a fateful entitlement that will help us get out of the crisis experienced by the country." He confirmed that Libya is in urgent need of close cooperation between its people, and stressed the need for popular participation for the success of the elections.
"I extend this invitation to all of you who share the dream of saving Libya from the yoke of war and chaos and restoring stability, peace, prosperity, fraternal coexistence, and communal harmony. I call on you and all those who believe in the comprehensive national reconciliation project to turn to the electoral process with the responsibility required by the gravity of the stage, starting with heading to the HNEC offices in your regions and cities to receive your electoral cards, without which you will not be able to participate and take decisions," he added.
"Your electoral cards are available at the present time in the HNEC offices. It is your passport to pass to the polls towards participating in independent national decision-making, to enhance the legitimacy of the new political institutions that you will elect to advance our country, rehabilitate and rebuild it, and take the decisions it needs to return it to its first place among countries. I hope that your response will be broad and your interaction positive and aware of the nation's interest and your love for it," he concluded.