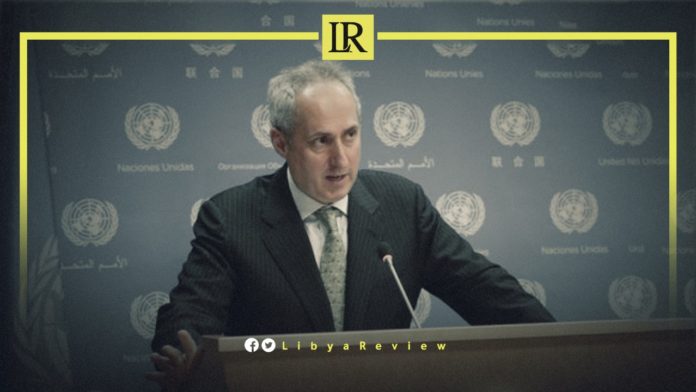 The United Nations (UN) affirmed its continued support for the Libyan authorities to ensure the organisation of comprehensive and credible elections on December 24th. This is expected to occur in accordance with the road map and relevant Security Council resolutions.
In a press conference in New York, the Spokesman for the Secretary-General of the UN, Stéphane Dujarric, added that the UN provides technical support to the Libyan High National Election Commission (HNEC) in several areas.
Dujarric explained that these areas are communication with decision-makers and opinion-makers, providing technical advice and assistance, raising awareness and support for the participation of women and other marginalized groups.
Dujarric said that the UN mission in Libya is supporting the electoral processes and helping to improve the voter registration system, training, awareness-raising, coordination, electoral security and logistics.
Earlier in November, the Deputy Spokesman of the UN Secretary-General, Farhan Haq, said that deciding the eligibility of candidates for the presidential and parliamentary elections in Libya falls within the power of the HNEC, in accordance with the legislative framework set by the Libyan Parliament.
"We continue to support the Libyan authorities in preparation for the Presidential and Parliamentary elections on the 24th of December. As for the candidates, it is up to the HNEC to receive the nominations of the candidates, and it is the only body who is able to decide the eligibility of the candidates in accordance with the legislative framework and the executive regulations," he stated.
The UN – and the bulk of the international community at the Paris summit – took the view that Libya was more likely to slide into chaos if the elections were not held on the 24th of December. They placed a strong emphasis on an inclusive election process open to all Libyans.
The summit also tried to build momentum behind repeated calls for the withdrawal of foreign forces. Turkey has announced that it would keep its troops in the country, insisting they are present at the invitation of the previous Tripoli-based government.
The communique also warned that "individuals or entities, inside or outside of Libya, who might attempt to obstruct, undermine, manipulate or falsify the electoral process and the political transition" could face international sanctions.