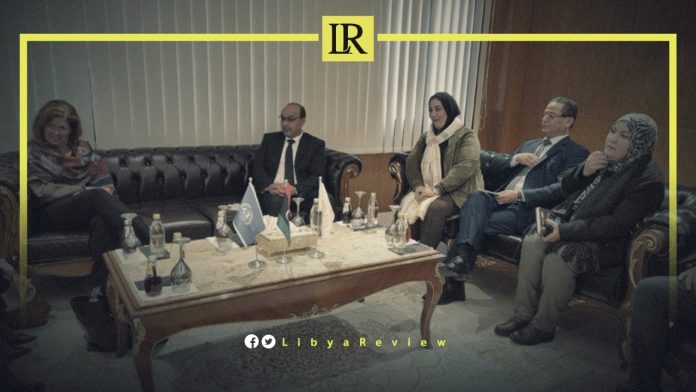 On Saturday, the Special Adviser to the Secretary-General of the United Nations (UN) on Libya, Stephanie Williams, held a meeting with the President of the Steering Council of the Municipality of Benghazi, Engineer Saqr Bujwari, and members of the Municipal Council.
During the meeting, which she described as a "frank dialogue," Williams discussed a package of issues that concern the city, especially reconstruction, illegal immigration, and the need for decentralisation.
"I had the pleasure to learn more about the great support of the UN agencies, and the many projects they have implemented or supported within the city, and I also listened to the views of the Council, and its proposals on the political situation, including the electoral process, where they stressed the urgent need to advance the process of national reconciliation."
Last week, Stephanie Williams met with the members of the 5+5 Joint Military Commission (JMC) in Sirte to try to prevent any violence which might jeopardise the elections.
Libyan military sources confirmed all members of the 5 + 5 JMC representing the Libyan National Army's (LNA's) General Command and the Western Region were present at the meeting.
They added that the 5+5 JMC discussed all ways aim to consolidate the ceasefire agreement, remove all mercenaries and foreign forces from the country, and promote reconciliation between the parties to the conflict.
Today's meeting came hours after an Islamist militia group ended its siege of interim government headquarters in the capital Tripoli.
During the talks, Williams was briefed on updates regarding the implementation of the Ceasefire Agreement, including the Military Commission's recent meetings in a number of capitals to advance the implementation of the Action Plan of the withdrawal of mercenaries and foreign fighters and forces.
"Libyans have come far since signing the October-2020 Ceasefire Agreement, which was not breached since; the coastal road re-opened; flights have resumed, re-connecting all Libyan cities in addition to other confidence-building measures," she added.
The UN Adviser on Libya stressed that a lot of work needs to be done now to build on those achievements, most importantly, the unification of the military institution.