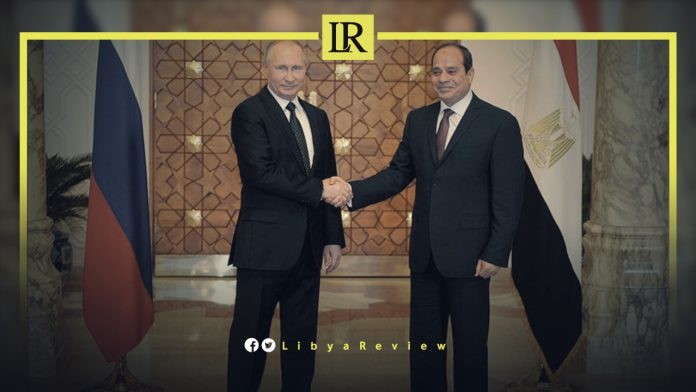 On Saturday, the Egyptian President, Abdel-Fattah El-Sisi, and his Russian counterpart, Vladimir Putin, agreed on the importance of intensifying efforts and mutual coordination to settle the Libyan crisis.
Speaking over the phone, the two leaders stressed the necessity of "combating and undermining armed militias and terrorist organisations, and put an end to illegal foreign interference in Libyan affairs," a statement by Egyptian Presidential Spokesman, Bassam Rady, said, according to Al-Ahram news.
El-Sisi stressed that Egypt will continue its efforts to bring the views of the Libyan parties closer so Libya can "overcome the current transitional phase and activate the free will of the brotherly Libyan people to choose their leaders and representatives."
Saturday's call comes as Libya's long-awaited presidential elections, originally set for Friday, were postponed. Organisers have suggested a new date, the 24th of January, but no official decision has been made.
Earlier this year, Libya elected an executive authority to rule the country until elections, originally scheduled for this month, are held.
The poll, the culmination of a United Nations (UN)-led process agreed upon to end 10 years of turmoil that have wracked Libya following the ouster and killing of President Moammar Gaddafi in 2011, was delayed due to disagreements over the legal basis for the vote.
Egypt, which shares a 1,200 km border with Libya, has been diligently working to help restore security and stability in the neighbouring country.
Last week, El-Sisi received the Head of the Libyan Presidential Council, Mohamed Al-Mnifi, at Al-Ittihadiya Palace.
During the meeting, El-Sisi confirmed Egypt's full support for everything that would achieve the supreme interest of Libya, activate the free will of its people, and preserve the unity and sovereignty of its lands.
The meeting was attended by Egypt's Foreign Minister, Sameh Shoukry, the Head of Egypt's General Intelligence Service, Abbas Kamel, as well as Ambassador, Abdel Muttalib Idris, Libya's Permanent Representative to the League of Arab States.